Disease control for avocado trees in the home landscape is usually not warranted. The easiest method for avoiding disease problems is to grow scab resistant varieties, planting trees only in well drained soils, and monitoring the tree (leaves and fruit specially) during the year. 4
The principal diseases affecting avocado production in Florida include fungi, viroid, and algae. Depending on weather, Phytophthora root rot (P. cinnamomi) and seedling blight (P. palmivora, P. parasitica) may be particular concerns. Scab (Sphaceloma perseae), spot (Pseudocercospora purpurea), anthracnose (Colletotrichum gloeosporioides), and wilt (Verticillium albo-atrum) are other fungal diseases that affect avocado production. Algal spot (Cephaleuros virescens) may become prevalent in late summer through late winter. A sun-blotch disease caused by a viroid may be latent for some time in the rootstock. Other diseases that intermittently affect avocado production are powdery mildew and stem-end rots. 3
---
Avocado Root Rot (Fig.1).
Caused by Phytophthora cinnamomi
Trees in areas with poorly drained soils and/or which are subject to flooding are likely to be affected by this fungus. This is the most serious disease in most avocado producing areas of the world. Although many trees are infected with the fungus in Florida, the disease appears to be serious only if trees are subjected to flooded conditions. Leaves of infected trees may be pale green, wilted, or dead, and terminal branches die back in advanced stages of the disease. Feeder roots become darkened and decayed, and severely affected trees usually die. 4
Further Reading
Phytophthora Root Rot (Phytophthora cinnamomi) from the University of California pdf
---
Anthracnose (Fig.2)
Caused by Colletotrichum gloeosporioides
Anthracnose infects the leaves and the fruit of the avocado plant. It is a weak pathogen, requiring entry portals, which may be created by Sphaceloma perseae or Cercospora purpurea. Once the fruit is infected, however, the anthracnose fungus rapidly degrades the quality of maturing fruit. Lesions become black and sunken, and a large portion of the fruit can also be overcome with the black decay. 1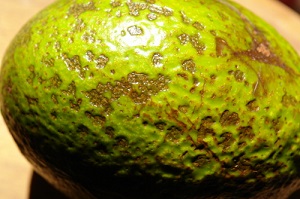 Fig. 6
Further Reading
Anthracnose of Avocado from the University of Hawaii at Manoa pdf 6 pages
---
Avocado Scab (Fig.7)
Caused by Sphaceloma persea
Scab is a pathogen of young leaves. Leaf resistance to scab increases greatly after one month of age. Colonization of scab is favored by cool, wet conditions. Signs of scab on leaves are small spots on the blade. The spots turn from dark purple/brown to gray, often leaving a star-shaped shot-hole. Leaves may become distorted and twisted if the infestation is heavy.
Avocado fruit become resistant to scab at about half size. Scab is prominent on fruit of susceptible varieties, such as 'Lula'. Spots caused by scab on fruit are first oval, slightly raised, and purplish/brown. The spots form patches as they merge, and the centers of the spots may become sunken. A large portion of the fruit may become rough. Although the scab organism does not directly injure the fruit, the organism creates entry points, which fruit-rot organisms may colonize. 4
---
Algal Leaf Spot (Fig.10)
Caused by Cephaleuros virescens
This is a relatively minor disease that occurs most frequently in tropical avocado production areas; it is fairly common on avocado in south Florida. (Fig.12) 2
| | | | |
| --- | --- | --- | --- |
| | | | |
| Fig.11 | Fig.12 | Fig.13 | Fig.14 |



Further Reading

Cephaleuros

Species, the Plant-Parasitic Green Algae from the University of Hawaii at Manoa pdf 6 pages
---
Sun-blotch (Fig.15)
Caused by a viroid (ASBVD).
Symptoms of infection include sunken yellow or whitish streaking or spotting and distortion of twigs, leaves, and fruit. It is transmitted through buds, seeds, and root-grafting of infected trees. There is no control for this disease, and infected trees should be destroyed. This disease is rare in Florida. 4
---
Powdery Mildew
Caused by an Oidium sp.
Powdery mildew covers undersides of leaves with a white powdery growth. Later, the white mildew disappears leaving dark, reticulate markings, which appear from the upper side as yellowish areas. Usually not serious enough to require control measures, this disease is most prevalent during the dry season. 4
---
Verticillium Wilt
Caused by Verticillium albo-atrum
This soil-borne fungus is more prevalent in trees planted in historic areas of solanaceous crop production. The fungus invades water-conducting structures in the roots, causing a persistent wilt. Brown or gray streaks may be observed in the vascular tissue when the bark is peeled away. Leaves may die for lack of water, but remain attached for some time. Trees also may flush out with new shoots several months after collapse, apparently recovered from the infection. 3
---
Spot

Caused by Pseudocercospora purpurea

Pseudocercospora infection first appears as small, angular brown or purple spots on the leaves, with yellow halos around many of the lesions. The spots are less than 3 mm across, but may overlap to form blotches of brown tissue. During rainy periods, when the fungus is most likely to flourish, grayish spore masses may be seen on the surface of the spots by using a hand lens. The fungus attacks fruit in a similar manner, except that fissures form in the spots on fruit. These fissures may lead to secondary infection. 3

---
Diplodia Stem-end Rot
Caused by Dipladia sp.
This rot disease begins at the stem end of the fruit and develops as the fruit softens. It is usually only aproblem with immature fruit after harvest and can be prevented by harvesting only mature fruit. 4
---
Further Reading


Identify the Causes of Fruit Damage from the University of California ext. link
Avocado Integrated Pest Management from the University of California ext. link
Florida Crop/Pest Management Profile: Avocado from the University of Florida

pdf 10 pages


Pest Management Guidelines: Avocado from the University of California pdf 93 pages
Avocado Growing in the Florida Landscape from the University of Florida pdf 12 pages


Top