Back to
Other Edibles - General

Fig. 1

The Spice Bazaar, Istanbul, Turkey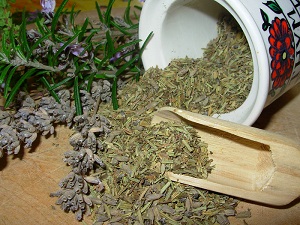 Fig. 2

Herbes de Provence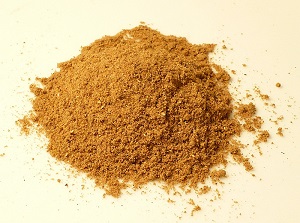 Fig. 3
Garam masala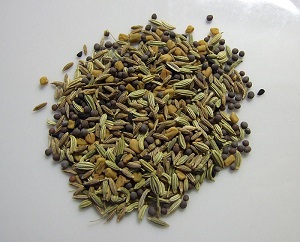 Fig. 4

Panch Phoron, a spice blend used in Bangladesh and Eastern India, especially in Bengali, Assamese and Oriya cuisines.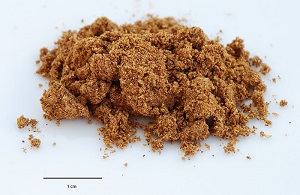 Fig. 5
Mixed spice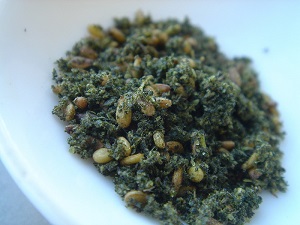 Fig. 6

Closeup image of Za'atar, a blend of hyssop, sumac, sesame and salt.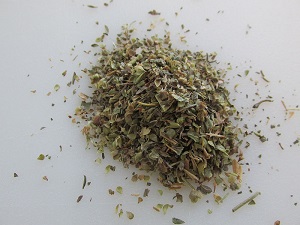 Fig. 7

Italian herb mix, Penzeys Spices, Arlington Heights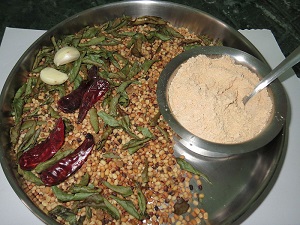 Fig. 8

Idli podi is a coarse powder made by grinding the ingredients shown in the image. It will be a delicious combination with idli and dosa.



A spice is a seed, fruit, root, bark, or other plant substance primarily used for flavoring, coloring or preserving food. Spices are distinguished from herbs, which are the leaves, flowers, or stems from plants used for flavoring or as a garnish. Sometimes, spices may be ground into a powder for convenience. Many spices have antimicrobial properties. 1
The difference between herbs and spices is that, if a leaf of a plant can be used to add flavor or aroma to dishes, then it is an herb. If it is another part, like the seed, fruit, berry, and bark, then it is a spice. 2



Whole spices compared to ground spices


Most spices and herbs are available in either a finely ground form for cooking or in the raw form as a seed, nut, leaf, or tuber. Most of the time, the ground form is required to properly flavor the dish. Generally, whole spices keep their flavor longer than the ground spices. South Asian cuisines often use whole spices that they roast freshly before grinding for use, maximising the flavors and aromas released into the food. 2

Bay leaves are generally used in stews and soups and are almost always used whole.



Green spices compared to dried spices


Often, a recipe will require modifications if the fresh version is used because the flavors do change in the drying process. Fresh herbs are nearly always better than dried herbs, as some subtle aromatics are lost during drying. When substituted in recipes, one part dried herbs are approximately equal to 3 parts fresh herbs. For example, 1/3 tablespoon of dried basil is equal to about one tablespoon of chopped fresh basil. 2


---

Spices and Herb mixes

Baharat 3
Is a spice mixture typically used in the countries surrounding the Arabian Gulf to flavour mutton dishes and is said to be the most-used spice in the Arabic cuisine.

6 tbs sweet pepper, i.e., allspice; 6 tbs black pepper; 3 tbs cinnamon; 3 tbs coriander; 2 tbs cumin; 1 tbs nutmeg; 1 tbs cloves; ½ tbs cardamom.

Finely grind the ingredients using a mill. Mix well. To intensify the taste fry the powder in butter before use.



Berbere

4
Is a mix of spices used in Ethiopian and Eritrean cuisine. It consists of a fiery mix of chili and several aromatic spices.

¼ tsp ground allspice; ¼ tsp ground cinnamon; ¼ tsp ground cloves; ½ tsp ground cardamom seed; ½ tsp ground coriander seed;½ tsp ground fenugreek seed; ½ tsp ground nutmeg; 1 tsp ground ginger; 1 tsp ground black pepper; 2 tbs salt; 2 cups chili flakes.

Roast everything except the pepper, chili and salt, in a heavy saucepan or cast-iron frying pan for about 5 minutes on a low heat.
Stir in the pepper, chili and salt, and keep stirring for another 10 minutes.
Store in a glass jar, away from sunlight.

Dry Rub 5
A dry rub useful for ribs, pork roast or whatever you like. After rubbing on the meat, let it sit in the refrigerator for about an hour.

¼ cup paprika; ¼ cup. light brown sugar; 3 tbs salt; 1 tsp dry mustard; 1 tsp ground black pepper; ½ tsp cayenne pepper; ½ tsp ground cumin.

Combine ingredients in a Zip-Lock bag, shaking thoroughly. Store in airtight container.



Five Spice Powder

(五香粉) 6
Is a convenient seasoning for Cantonese cuisine. It incorporates the five basic flavours of Chinese cooking - sweet, sour, bitter, pungent, and salty. One common recipe includes China Tung Hing cinnamon, powdered cassia buds, powdered star anise and anise seed, ginger root, and ground cloves. Another recipe for the powder consists of cinnamon, black pepper, cloves, fennel seed, and star anise. It is used in most Cantonese roasted ducks, as well as beef stew.
The formulae are based on the Chinese philosophy of balancing the yin and yang in food. A pinch of the powder goes a long way.

2 tsp Szechuan peppercorns; 8 star anise pods; ½ tsp ground cloves; 1 tbs ground cinnamon; 1 tbs ground fennel.

Roast two tsp of Szechuan peppercorns in a dry frypan for about three minutes.
Grind the peppercorns in a pepper grinder or coffee grinder together with 8 star anise pods.
Strain the ground spices to remove any larger bits.
Mix together ½ tsp ground cloves, 1 tbs ground cinnamon, and 1 tbs ground fennel seeds.
Grind the completed mixture until it is a very fine powder.
Use sparingly, as it is extremely pungent.

Herbes de Provence 7
Or Provençal herbs is a mixture of the herbs traditionally used in the cooking of Provence, France. The mixture was created in the 1970s to simplify the use of these herbs; traditional cooks did not have such a mixture, instead using the individual herbs in amounts suitable to their own tastes. Although a few commercial mixtures do not have it, many cooks consider that Herbes de Provence without lavender is not really Herbes de Provence.

1 tbs basil; 1 tbs marjoram; ½ tbs rosemary;1 tbs summer savory; 1 tbs thyme; 1 bay leaf, crushed; 2 or 3 lavender flowers, crushed. Optional; 1 tsp fennel seeds; 1 tsp sage.

Mix these dried herbs together.



Garam masala

8
Literally "hot spice" in Hindi, is a term for a mixture of spices used in Indian cooking. Many commercial brands are available, but keen cooks can grind and blend their own. This ensures freshness and means you have control over the quality and quantities of the individual spices. There is no one 'official' recipe and many Indian families have their own variety. Make your choice from the list of spices below, and grind them together with a pestle and mortar, spice mill (or pepper mill), or electric coffee grinder. Make small quantities, and store in an airtight container for no more than six months.

Black or green cardamom; cinnamon sticks; whole cloves; black peppercorns; cumin seeds, toasted; nutmeg. Other common ingredients: bay leaves; fennel seeds; coriander seed, toasted.

Jamaican Jerk Spice 9
Is a pungent, hot mixture of spices used to flavor meats before grilling or roasting.

2 tbs cayenne pepper; 1 tsp cinnamon, ground; 1 tsp nutmeg, ground; 1 tsp allspice, ground; 1 tsp dried onion powder; 2 tsp dried thyme; 1 tbs sugar; 1 tbs dried minced onion; 1 tbs salt.
or
4 tbs ground allspice; 1 tbs ground dried thyme; 1 tbs paprika; 1 tsp ground red pepper; 1 tsp garlic powder; 1 tsp onion powder; 1 tsp salt; ½ tsp black pepper.



Meat Masala

10
Is a spice mix used in Keralan cuisine, typically as a marinade for various types of meat, especially mutton.
Meat masala can either be rubbed onto pieces of meat as a dry powder mix, or combined with oil to make a paste that more easily coats the meat. Once coated, the meat should be left to marinate for at least 20 minutes, but preferably up to 2 hours, before cooking.

50g whole dried chillies; 100g coriander seed; 2 tbs black peppercorn; 1 tsp cumin seed; 1 tsp mustard seed; 1 tsp turmeric powder; 12 cloves; ¼ tsp cardamom seed; 2 short pieces of cinnamon.

Roast the chillies, coriander, peppercorn, cumin, and mustard in a frying pan.
Grind all ingredients to a powder.
Store in a glass jar with a tight-fitting lid.



Mexican Seasoning

11
Is sometimes just chili powder, though many variations on this theme exist. Make your own mixture ahead of time and store in a small shaker for easy use.

½ cup chili powder; 1 tbs of salt; 1 or 2 tsp of cumin (seed or powder); 1 or more tsp garlic.
Add to this as you prefer, a teaspoon or more of:
Mexican oregano; basil; coriander; onion (powder or granulated); cinnamon; crushed red pepper; black pepper.



Tamil Spice Mix (Idli Podi)

12
Is a coarse powder mixture of ground dry spices that typically contains dried chilis, urad (bean), chickpea, and sesame seeds. Tamilians traditionally use idli podi as a condiment on idlis, dosas and other South Indian dishes.

Idli podi also called as dosa podi in Kerala is eaten as a dipping condiment: The diner takes a teaspoon of powder on his plate, makes a well in the centre, adds sesame or other oil to this crater, and mixes in the powder to form a moist paste. Pieces of idli or dosa are then broken off and dipped into this tasty oil-powder mix, and eaten. It may also be simply added dry to food.

100 g of urad dal; 100 g of channa dal; 5-10 dry red chilis; ½ tsp til (sesame seed); a pinch of asafoetida; salt to taste.

Mix the dal and the chilis in a wok and dry roast until the white dal turns golden brown. Remove to a plate and sprinkle the asafoetida on the mix before it cools. Dry roast the sesame seeds until they become dry. Mix with the dal and chili mix and let cool.
Salt to taste and put it all in a grinder and make a slightly coarse powder.
Mix with either sesame oil or ghee when using.
Some recipes add powdered, roasted garlic.
Add 25g of rice and two tsp of pepper to get the authentic pallakkaad-style idli molagai podi.
Instead of sesame seeds, try adding jaggery (traditional non-centrifugal cane sugar) to get a different taste.



Mixed Spice

13
Also pudding spice, is a mix of sweet spices commonly used in baking, desserts, and with fruit, particularly in British cuisine, and in cuisines that derive from it (e.g. the old colonies of the British empire).

1 tbs ground allspice; 1 tbs ground cinnamon; 1 tbs ground nutmeg; 2 tsp ground mace; 1 tsp ground cloves; 1 tsp ground coriander; 1 tsp ground ginger.

Blend all spices together and store in a sealed jar away from light.



Bengali Five-Spice Mix (Panch Puran)

14
(also called Panch Phoran, Panch Phoron, or Bengali Five-Spice Mix) is a spice mixture used in Indian cuisine. All of the spices are seeds.

It is made of equal parts of five spices: fenugreek seed (methi); nigella seed (kalo jira); mustard seed (rai or shorshe); fennel seed (mouri); cumin seed (jeera)

In some variations, wild onion is used in place of cumin. In other variations, radhuni seed is added to the mixture. The name simply means "five spices" in Bengali. In Bengali cuisine, the seeds are usually fried in oil (or ghee), which causes them to start crackling immediately. Vegetables (especially potatoes), dal, or fish are then added. It is not used with meat.



Tandoori masala

15
Is a mixture of spices specifically for use with a tandoor, or clay oven, in traditional Pakistani and Indian Punjabi cooking. The specific spices vary somewhat from one region to another, but typically include fenugreek, cinnamon, cumin, coriander, garlic, ginger, etc.

The spices are ground to a fine powder in a coffee grinder or with a mortar and pestle. The masala is mixed with plain yogurt, and meat (usually chicken) is coated with the mixture, then slow-roasted in the tandoor. Chicken prepared in this fashion has a pink-coloured exterior and a savoury flavor.



Za'atar

16
Also zaatar, zahatar, is a mix of herbs and spices popular in the Middle East. It was traditionally made from Syrian hyssop (also Syrian oregano, white oregano), but due to overharvesting, it is usually made from more common ingredients today. Green za'atar is made from wild oregano, sesame seeds and salt, and may also have savory, hyssop, thyme, cumin or fennel seed. Adding a little sumac makes this red za'atar.

3 tbs roasted sesame seeds, ground in a mortar and pestle
2 tbs dried oregano
1 tbs dried thyme
1 tsp salt
½ – 1 tbs sumac, for red za'atar



Italian Herb Mix

17
Is a blend of ground herbs used outside of Italy to flavor many Italian dishes.
The main ingredients are basil, oregano, rosemary, and thyme. Common additions to taste also include garlic powder, sage, and cilantro.

Italian Seasoning, despite its name, does not exist in Italy and cannot be found in any market, except for foreign cuisine specialized markets. A similar version of it can be found in Bologna by the name of "Salamoia bolognese". It is made of: Sea salt, rosemary, sage, garlic and black pepper.

Italian seasoning originates from the Mediterranean region.



Bibliography

1 "Spice." en.wikipedia.org/wiki/Spice. Accessed 2 Jan. 2018.
2 "Cookbook:Spices and Herbs."

Wikibooks, The Free Textbook Project

. 29 Dec 2016, 07:09 UTC. 2 Jan 2018, 22:51, en.wikibooks.org/w/index.php?title=Cookbook:Spices_and_Herbs&oldid=3171983. Accessed 2 Jan. 2018.
3 "Cookbook:Baharat."

Wikibooks, The Free Textbook Project

. 29 Dec 2016. en.wikibooks.org/wiki/Cookbook:Baharat. Accessed 4 Jan. 2018.
4 "Cookbook:Berbere."

Wikibooks, The Free Textbook Project

. 29 Dec 2016. en.wikibooks.org/wiki/Cookbook:Bebere. Accessed 4 Jan. 2018.
5 "Cookbook:Dry Rub."

Wikibooks, The Free Textbook Project

. 29 Dec 2016. en.wikibooks.org/wiki/Cookbook:Dry_Rub. Accessed 4 Jan. 2018.
6 "Cookbook:Five Spice Powder."

Wikibooks, The Free Textbook Project

. 29 Dec 2016. en.wikibooks.org/wili/Cookbook:Five_Spice_Powder. Accessed 4 Jan. 2018.
7 "Cookbook:Herbes de Provence."

Wikibooks, The Free Textbook Project

. 29 Dec 2016. en.wikibooks.org/wiki/Cookbook:Herbes_de_Provence. Accessed 4 Jan. 2018.
8 "Cookbook:Dry Rub."

Wikibooks, The Free Textbook Project

. 29 Dec 2016. en.wikibooks.org/wiki/Cookbook:Garam_Masala. Accessed 4 Jan. 2018.
9 "Cookbook:Jamaican Jerk Spice."

Wikibooks, The Free Textbook Project

. 29 Dec 2016. en.wikibooks.org/wiki/Cookbook:Jamaican_Jerk_Spice. Accessed 4 Jan. 2018.
10 "Cookbook:Meat Masala."

Wikibooks, The Free Textbook Project

. 29 Dec 2016. en.wikibooks.org/wiki/Cookbook:Meat_Masala. Accessed 4 Jan. 2018.
11 "Cookbook:Mexican Seasoning."

Wikibooks, The Free Textbook Project

. 29 Dec 2016. en.wikibooks.org/wiki/Cookbook:Mexican_Seasoning. Accessed 4 Jan. 2018.
12 "Idli podi." en.wikibooks.org/Idli_podi. Accessed 5 Jan. 2018.
13 "Cookbook:Mixed Spice."

Wikibooks, The Free Textbook Project

. 29 Dec 2016. en.wikibooks.org/wiki/Cookbook:Mixed_Spice. Accessed 5 Jan. 2018.
14 "Cookbook:Bengali Five-Spice Mix (Panch Puran)."

Wikibooks, The Free Textbook Project

. 29 Dec 2016. en.wikibooks.org/wiki/Cookbook:Bengali_Five-Spice_Mix_(Panch_Puran). Accessed 5 Jan. 2018.
15 "Cookbook:Tandoori Masala."

Wikibooks, The Free Textbook Project

. 29 Dec 2016. en.wikibooks.org/wiki/Cookbook:Tandoori_Masala. Accessed 5 Jan. 2018.

Photographs

Fig. 1 User:Barbarossa~commonswiki.

The Spice Bazaar, Istanbul

. 14 October 2005. GNU Free Documentation License, Version 1.2, commons.wikimedia.org/wiki/File:Kruiden_in_Egyptische_bazaar_Eminönü_Istanbul.JPG. Accessed 5 Jan. 2018.
Fig. 2 Booth, Karen.

Herbes de Provence

. Flickr user: French Tart-FT. Uploaded: 26 February 2008. (CC BY 2.0), www.flickr.com/photos/frenchtart/930950893/in/photolist-2qgngt. Accessed 5 Jan. 2018.
Fig. 3 Badagnani.

Homemade Garam masala

. 3 February 2008. (CC BY 3.0), upload.wikimedia.org/wikipedia/commons/thumb/5/58/Garammasalaphoto.jpg/1024px-Garammasalaphoto.jpg. Accessed 4 Jan. 2018.
Fig. 4 Wiki-uk.

Panch Phoron, a spice blend used in Bangladesh and Eastern India, especially in Bengali, Assamese and Oriya cuisines

. 12 May 2011. (CC BY-SA 3.0), commons.wikimedia.org/wiki/File:Panch-phoron.jpg. Accessed 5 Jan. 2018.
Fig. 5 Halasz, Peter.

Mixed spice

. 13 May 2007. (CC BY-SA 2.5), commons.wikimedia.org/wiki/File:Mixed_spices_01_Pengo.jpg. Accessed 5 Jan. 2018.
Fig. 6 Sjschen.

Closeup image of Za'atar, a blend of hyssop, sumac, sesame and salt

. 29 October 2007. (CC BY 3.0), commons.wikimedia.org/wiki/File:ZaatarbyGassan.jpg. Accessed 5 Jan. 2018.
Fig. 8 Phelan, John.

Italian Herb Mix, Penzeys Spices, Arlington Heights.

8 January 2014. commons.wikimedia.org/wiki/File:Italian_Herb_Mix,_Penzeys_Spices,_Arlington_Heights_MA.jpg. Accessed 5 Jan. 2018..
Fig. 9 Booradleyp1.

Idli podi is a coarse powder made by grinding the ingredients shown in the image. It will be a delicious combination with idli and dosa

. 20 April 2015. (CC BY-SA 4.0), commons.wikimedia.org/wiki/File:Idli_Podi.jpg. Accessed 5 Jan. 2018.

Published 2 Feb. 2018 LR