Blackberry Jam Fruit
Scientific name: Randia formosa (Jacq.) K. Schum.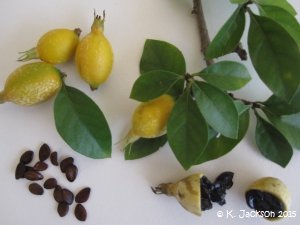 Fig. 1
Common names: Blackberry Jam Fruit, Raspberry Bush, Jasmin de Rosa
Synonyms: Gardenia mussaenda L.f.; Genipa mussaendae (L.f.) Baill.; Mussaenda formosa Jacq.; Randia mussaenda (L.f.) DC.; Ronbergiodendron formosum (Jacq.) Fagerl.; Randia orinocensis Rusby Solena mussaendae (L.f.) D.Dietr. 3
Family: Rubiaceae
Origin: Central and South America
It is hardy to 28-29F
Extract from Tomas B. Croat BCI Descriptions
(Jacq.) K. Schism. in Mart.,Fl. Brazil. 6(6):342. 1889
Ronbergiodendron formosum (Jacq.) Fagerl.
Dioecious shrub or small tree, unarmed, widely branched; stems glabrous in age, slender. Leaves clustered at ends of small lateral branches; stipules short, broadly triangu­lar, often ± scoop-shaped, acute, 1.5-3 mm long, brown, persisting below leaf clusters; petioles obscure or to 1 cm. long; blades oblanceolate-elliptic, acuminate, attenuate and decurrent at base, mostly 3-11 cm long, 1.5-3 cm wide, sparsely pubescent and dark green above, duller and more densely pubescent below. Flowers single at branch, ends, densely sericeous; calyx 13-20 mm long, lobed, persisting in fruit, the lobes 5, linear, 8-10 mm long; corolla tubular, 11-19 cm long, the tube greenish, papillose inside at apex, soon becoming velutinous in upper part, then glabrous, the lobes 5, white, 3-5 cm long, tapered to a slender tip; filaments adnate to tube; anthers 5, ca 5.3 min long, attached at flared apex of tube; style with ascending trichomes near apex; stigma broadly bilobed, held slightly above anthers. Fruits baccate, ± spherical, to 25 mm diam, dark green, with several broad white bands extending from apex to middle or beyond, sparsely covered with appressed trichomes; seeds num­erous, flattened laterally, stacked in
4 rows, white. Croat 11296,11888. 4
Fig. 5

Rosenbergiodendron formosum immature-fruit

Fig. 6

Rosenbergiodendron formosum immature-fruit and leaves

Fig. 7
You don't have to make a preserve with this fruit - the fresh pulp tastes exactly like Blackberry Jam. Yet it's not too sweet and actually tastes even better than any preserve. When you see the shrub all covered by yellow fruit, you are anxious to pick, crack open all of them, and suck out the sweet and tasty exotic pulp... This is one of those fun rare fruits than one never gets tired of! 1
A genus of about 100 species of shrubs and trees, from tropical and warm regions of the Americas, R. formosa, unlike most members of this tropical to subtropical genus, usually lacks spines on its upright stem and can be cultivated in temperate climates. 5
Randia formosa is a rare tropical to subtropical fruit, growing as a small evergreen bushy shrub, usually only 4-5 ft tall in the ground and
3-4 ft in container. It can be also trained into a miniature tree. The plant is closely related to gardenia and produces 1.5-2" star shaped, very fragrant, tubular white flowers that attract nocturnal moths. Olive-shaped yellow fruits are woody shelled, about 1" size and look like small loquats. They can be easily crushed between teeth. The fruit contains two cells with small flat seeds surrounded by sweet black soft pulp tasting like "blackberry jam", beloved of children and adults. 1
An interesting plant for fruit tree collectors and those in search of fragrance. Randia formosa is a shrub related to Gardenias. It's a small bushy shrub to 2m+ and produces fairly large, fragrant, ornate white flowers and is hardy. It enjoys full or partial sun and likes acidic soil. To lower pH: Both ammonium sulphate and ammonium nitrate acidify the soil, but ammonium sulfate is much more acidifying.
Generally, the plant is fairly easy to grow and can make a container specimen in colder areas. Propagation by seed. The University of Guam say it is a primary windbreak species. 2
Fig. 8
Fig. 9

Fig. 10

Rosenbergiodendron formosum

leaf
Summary
Slow and compact grower. For years, it can be grown in 3-5 gal container, reaching 3-4 ft in height
Branching habit and a dense pretty foliage.
Tolerates shade and will flower and fruit in filtered light, which is appreciated by container gardeners who grow these plants indoors or in a crowded greenhouse.
Flowers are gardenia-like and have pleasant sweet fragrance, although not as strong as gardenias. When in bloom, the bush is all covered with star-shaped flowers.
Starts fruiting in young age - 1-1.5 year from seed. 1-3 gallon container plants start blooming and fruiting when reach about 2 ft tall.
Heavy producer. A small 3 ft plant in 3 gal. container can bear as many as 25-30 fruit at a time. Blooming/fruiting period continues for a few months, new flowers appear while the first fruit start to ripen.
Fall/winter bloomer. Enjoy fragrance and fruit when other plants are off-season! Fruits from November to January.
Likes container culture. It requires acidic soil and will feel happy in a well-drained potting mix.
Fig. 14

Rosenbergiodendron formosum fruit

Fig. 15

Rosenbergiodendron formosum seed-wet
Fig. 16

Fruit & Spice Park, Homestead, Florida, USA

Fig. 17

Fruiting plant at The Kampong, Coconut Grove, Florida, USA
Culture of Randia formosa
Blackberry Jam Fruit can take both sun and shade. However, in filtered light leaves look healthier and greener.
The plant is relatively cold hardy and is said to withstand as low as 28-29F. However, young plants are more sensitive and should be protected from chill winds and frost. During cold period, watering should be reduced, otherwise leaves may become chlorotic Randia formosa is very sensitive to over-watering particularly during cool season.
This species is reported to be drought tolerant, however, it requires regular watering until the plant is well-established. Young plants easily droop leaves if underwatered, they may even loose all the leaves overnight if the soil gets too dry! However, the plant usually recovers very quickly and new growth comes in a few days to a week.
In general, Randia formosa is easy in cultivation. The two most important requirements are - acidic soil and good drainage. If these two conditions are missing, most likely the leaves may turn chlorotic (yellow with green veins, see picture on the right) once there is a chance of a slight over-watering. This is not a fatal failure though, but effects the looks of the plant.
The best mixture for this plant is - 50:50 mix of perlite and peat moss (or coconut fiber). You may add some pine bark for a better drainage, too. Use slow-release fertilizer and apply microelements on regular basis to avoid possible chlorosis.
The Blackberry Jam Fruit is definitely a conversation piece, and tasting a "blackberry jam" from a gem of your rare fruit collection will always bring fun time for your family, friends and garden visitors. 1
Growing your Blackberry Jam Fruit Seed
List of Growers and Vendors
Top
Bibliography

1 "Randia formosa - Fragrance and fresh Blackberry Jam." toptropicals.com. Top Tropicals Tropical Plant Catalog. Web. 6 Jan. 2015.

2 Backhouse, Sheryl. "Blackberry Jam Bush - Randia formosa." stfc.org.au. Sub-Tropical Fruit Club of Qld. Inc Newsletter Aug. Sept. 2007. Web. 12 Nov. 2015.

3 "Rosenbergiodendron formosum (Jacq.) Fagerl.." Ars-grin.gov. United States Department of Agriculture. Agricultural Research Service, Beltsville Area. Web. 12 Nov. 2015.

4 Croat, Thomas B. "Randia Formosa." biogeodb.stri.si.edu. Flora of Barro Colorado. 1978. Stanford University Press, ISBN 0-8047-0950-5. Web. 14 Nov. 2015.

5 "Randia formosa (Jacq.) K. Schum. (Jasmin de rosa, blackberry jam fruit)." freshfromflorida.com. N.d. 14 Nov. 2015.

Photographs

Fig. 1,7,9,11,12,16 Jackson, Karen. Blackberry Jam Fruit Series. 2014. growables.org. Fruit & Spice Park, Homestead, FL, USA. Web. 14 Nov. 2015.

Fig. 2 Randia formosa - Fragrance and fresh Blackberry Jam. N.d. toptropicals.com. Top Tropicals Tropical Plant Catalog. Web. 6 Jan. 2015.

Fig. 3 Gentry A. Flowers and leaves. N.d. tropical.theferns.info. Under Creative Commons Attribution-NonCommercial-ShareAlike 3.0 Unported (CC BY-NC-SA 3.0). Web. 12 Nov. 2015.

Fig. 4,5,6,10,14,15 Paton, Steven. Rosenbergiodendron formosum. 2003-2006. stri.si.edu. Environmental Sciences Program, Smithsonian Tropical Research Institute. Web. 12 Nov. 2015.

Fig. 8,13 Robitaille, Liette. Blackberry Jam Bush Series. 2015. growables.org. JPEG file.

Fig. 16 Daderot. Fruiting plant at The Kampong, Coconut Grove, Florida, USA. N.d. tropical.theferns.info. Web. 12 Nov. 2015.

Published 6 Jan. 2015 LR. Updated 14 Nov. 2015 LR. Reviewed 15 Nov. 2015 KJ