Back to
Edible Palms
Fig. 1
A Maypan coconut palm, growing in Ft. Lauderdale, Florida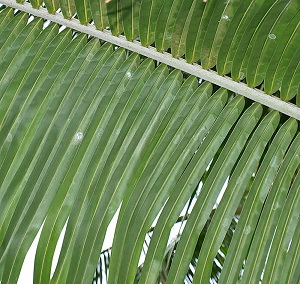 Fig. 2
C. nucifera
leaflets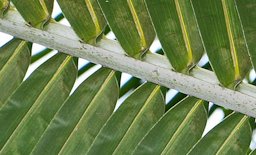 Fig. 3
C. nucifera
closer view of leaflets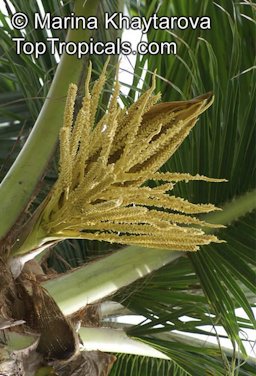 Fig. 4
Coconut inflorescense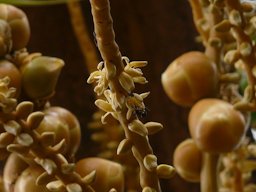 Fig. 5
Cocos nucifera

flowers being pollinated by a bee. Thane, India.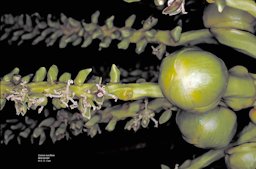 Fig. 7
Fruit forming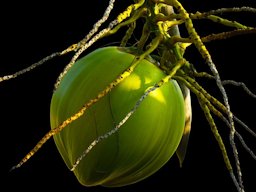 Fig. 8

Immature fruit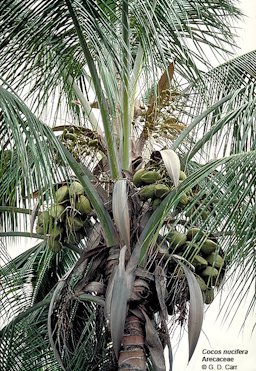 Fig. 9
Fruit of the
C. nuficera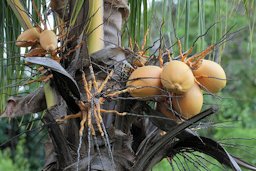 Fig. 10

Maturing fruit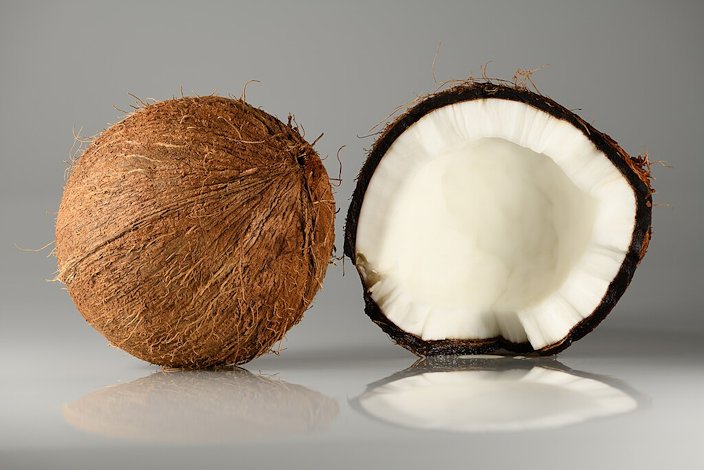 Fig. 11
Fresh coconuts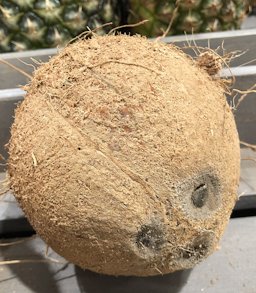 Fig. 12
A dehusked coconut shell from Ivory Coast showing the face-like markings at the base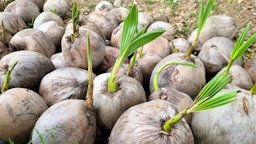 Fig. 13

A cut coconut shell in India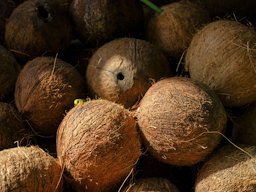 Fig. 14
Organic-grown coconut produced in Côte d'Ivoire, in a grocery shop of the 11th arrondissement of Paris, France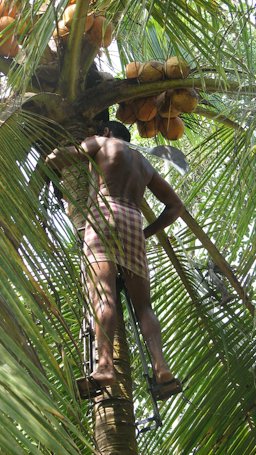 Fig. 21
A coconut harvester (Raghavan), near Chirakkadavu, Kanjirappally. Coconut climbing tool also visible.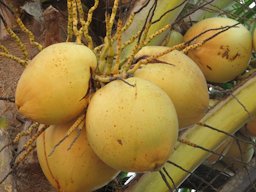 Fig. 22
Notches cut into the coconut trunk to facilitate easier climbing and harvesting, Philippines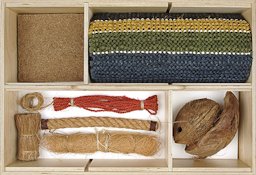 Fig. 36
Coir/Coconut fiber - Tray and samples of the textile cabinet in the Textielmuseum in Tilburg. Cabinet interior made by Simone de Waart.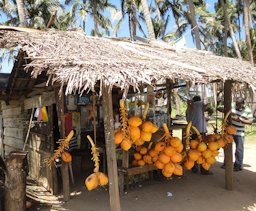 Fig. 59

King Coconut in Sri Lanka


Fig. 60

Coconuts being sold on a street in India. Madiwala. Coconut market.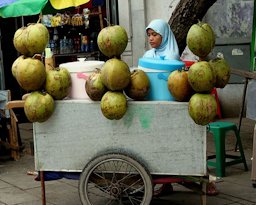 Fig. 61

A young lady sells fresh young iced coconuts in Old Town, Jakarta, Indonesia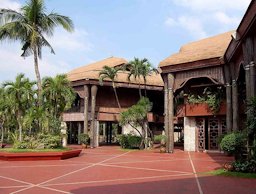 Fig. 62

Coconut Palace, Manila, Philippines, built entirely out of coconut and local materials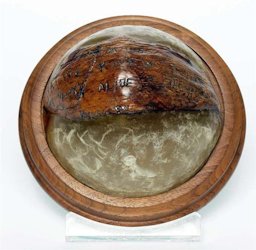 Fig. 63

Coconut Shell Paperweight - Original coconut on which the rescue message was inscribed by Kennedy to rescue the crew of the PT-109 and delivered by natives, Biuku Gasa and Eroni Kumana, of the Solomon Islands. From the source: While Kennedy was serving in WWII as commander of the PT109, his boat was hit by a Japanese destroyer and his crew was stranded in the Solomon Islands. Lieutenant John F. Kennedy carved this Coconut shell with a message and gave it to two natives to deliver to the PT base at Rendova so he and his crew would be rescued. He later had the coconut shell encased in wood and plastic and used it as a paperweight on his desk in the Oval Office. Message carved on coconut shell reads "NAURO ISL…COMMANDER…NATIVE KNOWS POS'IT…HE CAN PILOT…11 ALIVE…NEED SMALL BOAT…KENNEDY".


Back to
Edible Palms


Scientific name


Cocos nuficera

Linn. (The specific name

nucifera

is Latin for "nut-bearing")


Pronunciation


KOE-koase noo-SIFF-er-uh


Common Names


English: coconut palm, copra; Spanish: coco de agua, cocotero, palma de coco, palmera cocotera, palmera de coco; French: coco, cocotier, cocoyer, noix de coco; Chinese: ye zi; Portuguese: coqueiro; Cuba: coco blanco, coco indio, coco morado; Germany: Kokosnusspalme; Italy: cocco; Caribbean: cocos, cocospalm, klapperboom 6


Synonyms




C. nucifera

var.

synphyllica

;

Palma cocos

Mill.;

C. indica

Royle;

C. nana

Griff. ;

Calappa nucifera

(L.) Kuntze


Family


Arecaceae


Origin


Believed to be native to the Malay Archipelago or the South Pacific


USDA hardiness zones




10B through 11




Uses


Used in many desserts, fruit salads, and main dishes; coconut can be used when fresh, dried, canned, or frozen


Longevity


Tall coconuts are commonly grown for commercial purposes 40-90 years 7


Height


80-100 ft (24-31 m)


Spread


15-25 ft (4.6-7.6 m)


Crown


Open crown, symetrical


Plant habit


Large, single-trunked palm has a smooth, columnar trunk with a light grayish-brown color; the trunk is topped with a terminal crown of leaves


Growth rate


Moderate


Trunk/bark/branches


Branches don't droop; not showy; typically one trunk; thorns


Pruning requirement


Little required


Leaves


Leaf blade length: 18-36 in.


Flowers


White/cream/gray, not showy; male and female flowers are borne on the same inflorescence; coconut palms begin to flower at about 4-6 years of age


Fruit


Drupe, oval, round, 6-12 in.(15.2-30.5 cm) ; brown, green, yellow,

showy

; does not attract wildlife
USDA Nutrient Content pdf


Season


Fruit set to maturity: 8-10 months


Crop Yield


Annual production of 50-200 fruits per tree, depending on cultivar and climate


Light requirement


Full sun


Soil tolerances


Grows well in a wide range of soil types provided the soils are well drained


PH preference


5.5-7.0


Drought tolerance


Coconut palms are tolerant of dry soil conditions; however, for optimum fruit production and quality, regular irrigation is recommended during dry periods


Salt tolerance


Highly tolerant of saline water and soils, as well as salt spray


Cold tolerance




Will be injured and may be killed by temperatures below 32

°F (0°C)


Wind Resitance


Coconut palms are quite tolerant of windy sites and generally survive hurricane-force winds


Plant spacing


Commercially, they are planted 18-30 ft (5.5-9.1 m) apart; in the home landscape, they should not be crowded


Roots


Not a problem
Invasive potential *
Is invasive and not recommended in the south zone in Florida; it should be treated with caution in the central zone in Florida, may be recommended but managed to prevent escape; it is not considered a problem species and may be recommended in the north zone in Florida


Pest resistance


Resistant to verticillium wilt; several diseases and some pests


Known Hazard


The heavy nuts which may cause injury to man, animal, or rooftop when they hit in falling


---
Reading Material
Coconut Palm in Florida from the University of Florida pdf 7 pages
Cocos nucifera, Coconut Palm from the University of Florida pdf


Cocos nucifera

L. from the Handbook of Energy Crops
The Coconut Palm from Agroforestry.net

---
Origin


Comparatively little is known about the origin and early distribution of the coconut palm, probably because it was so widely spread throughout the tropical areas of the world so many years ago. However, the coconut palm is believed to be native to the Malay Archipelago or the South Pacific. 2

Description
This large, single-trunked palm has a smooth, columnar trunk with a light grayish-brown color; the trunk is topped with a terminal crown of leaves. Tall varieties may attain a height of 80 - 100 ft (24-31 m) while dwarf varieties are shorter in stature. The trunk is slender and often swollen at the base. The trunk is typically curved or leaning, but is erect in some cultivars.
The coconut is the most extensively grown and used nut in the world and the most important palm. 2


The term coconut can refer to the entire coconut palm, the seed, or the fruit, which, botanically, is a drupe, not a nut. The spelling cocoanut is an archaic form of the word. 4





Note

: The term is derived from the 16th-century Portuguese and Spanish word coco meaning "head" or "skull", from the three indentations on the coconut shell that resemble facial features. 3



Flowers


Male and female flowers are borne on the same inflorescence. The inflorescences emerge from canoe-shaped sheaths among the leaves and may be 2-3 ft (0.6-0.9 m) long and have 10-50 branchlets.
Male flowers are small, light yellow, and are found at the ends of the branchlets. Female flowers are larger than male flowers, light yellow in color, and are found towards the base of the branchlets. Coconut palms begin to flower at about 4-6 years of age. 2



Fig. 6

Fig. 6. C. nucifera

fibers and beginning of inflorescense





Fruit


The fruits are produced in clusters near the growing tip. They vary in shape, but are generally near globose to oblong, up to a foot or more in length. The nut is encased in a thick, fibrous husk which is persistent and must be cut away to expose the nut. The shell is very hard and woody, near 0.25 inch thick. The edible, oily flesh or kernel adheres to the shell, and is about 0.25 inch thick, with a hollow center which contains a liquid during growth. The dried flesh or meat is the copra of commerce, produced in great quantities mainly for its oil. 1
Trees begin to yield fruit in 5-6 years on good soils, more likely 7-9 years, and reach full bearing in 12-13 years. Fruit set to maturity is 8-10 months; 12 months from setting of female flowers. 7


| | | |
| --- | --- | --- |
| | | |
| Fig. 15 | Fig. 16 | Fig. 17 |
| | | | |
| --- | --- | --- | --- |
| | | | |
| Fig. 18 | Fig. 19 | | Fig. 20 |

Fig. 15. Matured coconut, sectioned to display layers. Layers are labeled
Fig. 16. Coconut Palm, longitudinal section fruit; Botanical Garden KIT, Karlsruhe, Germany
Fig. 18. Immature fruit
Fig. 20. Coconut

Cocos nucifera

. Fallen immature nuts, Thrissur, Kerala, India

Cultivars
Over 100 varieties are known, about half of them 'tall'



Harvesting


Harvesting of coconuts occurs throughout the year. The time from fruit set to full maturity is about 12 months. Drinking nuts should be picked earlier, at about seven months. The nuts may be harvested by skilled climbers or may be cut from the ground, using a knife attached to a long pole. Use of climbing spikes is not recommended since the wounds caused by the spikes are permanent and may provide entry sites for diseases, such as

Thielaviopsis

trunk rot. 2
Nuts must be harvested fully ripe for making copra or desiccated coconut. For coir they are picked about one month short of maturity, so that husks will be green. 7


| | | | |
| --- | --- | --- | --- |
| | | | |
| Fig. 23 | Fig. 24 | Fig. 25 | Fig. 26 |

Fig. 23. Sharp edged hook used for coconut plucking in the Maldives
Fig. 24. Chief Tuimauga, a member of the Hale Koa Hotel luau, demonstrates the skill of climbing a tree to retrieve coconuts. The Hale Koa, an Armed Forces Recreation Center resort, hosts a luau on Mondays and Thursdays at 5 p.m.
Fig. 25. Sri Lanka (Province du Sud): outil pour ouvrir les noix de coco (Tool used to open coconuts)
Fig. 26. Ouverture des noix de coco (opening of coconuts) au Sri Lanka (entre Yapahuwa et Dambulla, au centre du pays)



Propagation


Coconut Palm propagation is entirely from seed – the coconuts, which are ready for planting if they produce an audible "sloshing" sound when shaken. The nuts are placed on their sides and buried with sand or mulch to about one-half the thickness of the nut. They may be planted in closely spaced rows in well drained seedbeds, or the nuts may be planted directly into large pots. Germination is best under high temperatures (90-100 °F). Upon germination, the shoot and root emerge through the side or one end of the nut. Young palms, about 6 months old, can be transplanted directly into the field or can be grown in pots in the nursery for a few more years
The fruit can float for long distances and still germinate to form new trees after being washed ashore. 2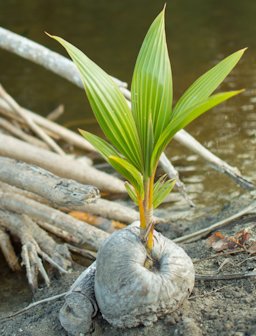 Fig. 27

Fig. 27. Coconut palm (

C. nucifera

) germinating on Punaluu Black Sand Beach, island of Hawai'i

Coconut Palms from Seed from the University of Hawi'i at Manoa pdf

Planting
Container-grown palms should be planted such that the bottom of the stem and top of the root system are about 1 inch below the surface of the soil. Field-grown palms should be planted at the same level at which they were previously grown. 2





Fertilizing


To prevent nutritional deficiencies from occurring or to correct mild deficiencies, regular maintenance fertilization with a "palm special" fertilizer is recommended. These fertilizers should have an analysis of approximately 8N-2P2O5-12K2O-4Mg. 2
The fertilizers should also have all of their N, K, and Mg in a controlled-release form to prevent rapid leaching of these nutrients through the soil. Additionally, the fertilizers should contain about 1-2 % Fe and Mn plus trace amounts of Zn, Cu, and B. 2

Nutrient Deficiencies in Palms



Irrigation


At least 1 inch of water should be supplied weekly by rainfall or by irrigation, especially during the first year following transplanting. 2

Pruning Palm Trees Page

Pests Page

Disease Page

Other Injuries



Food Uses


The meat of immature coconuts can be eaten with a spoon or be scooped out and made into ice cream. Coconut milk, abundant in unripe nuts, is a refreshing and nutritious drink. The meat in mature coconuts is firm and can be eaten fresh or may be used for making shredded coconut.
It is also grown on a limited commercial basis in Florida for coco frio, a refreshing drink made from the water inside green coconuts.
This tree is strong, resilient and can provide us with our most basic need for life - water! The most sterile water on earth is found in this nut. 5


| | | | |
| --- | --- | --- | --- |
| | | | |
| Fig. 28 | Fig. 29 | Fig. 30 | Fig. 31 |
| | | |
| --- | --- | --- |
| | | |
| Fig. 32 | Fig. 33 | Fig. 34 |

Fig. 28. Fresh coconut meat
Fig. 29. Coconut water served in the coconut
Fig. 30. Purest coconut milk ('kakang gata"), extracted from 15 fresh mature coconuts in Philippines
Fig. 31. Candied coconut types sold in Ho Chi Minh City
Fig. 32. Fresh coconut water
Fig. 33. Otak-otak from a shop in Katong, Singapore. Puréed fish is mixed with a chilli paste, coconut milk and egg and then grilled, wrapped inside two sections of coconut palm leaf.
Fig. 34. Ketupat, traditional indonesian rice cake. Typically eaten for festive seasons.



Fig. 35


Fig. 35. Fresh mature grated coconut meat, opened coconut, coconut healing oil, 2 "mata" (eyes) rarest coconut; fresh mature grated coconut meat, respectively (l-rt).

South Florida Tropicals: Coconut from the University of Florida pdf



Fiber Uses


The husk

fiber

is combed out and sold as coir, a material for making rope and coconut matting. Coir dust is an excellent substitute for peat moss in potting soils.


| | | | |
| --- | --- | --- | --- |
| | | | |
| Fig. 37 | Fig. 38 | Fig. 39 | Fig. 40 |
| | | | |
| --- | --- | --- | --- |
| | | | |
| Fig. 41 | Fig. 42 | Fig. 43 | Fig. 44 |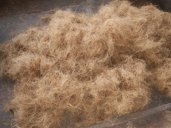 Fig. 45

Fig. 37. Fiber cutter used for cutting coconut fiber (coir) in Puri, Odisha by workers of non-profit Odiani working on coconut fiber craft. Odiani is located in Teisipur, Puri district, Odisha, India
Fig. 38. Extracting the fiber from the husk (Sri Lanka)
Fig. 39. This photo depicting the process of rewinding of coconut coir with rope. Tamils widely using this rope for many purposes
Fig. 40. Making a rug from coconut fiber. Srilanka.
Fig. 41. Public display by members of a cooperative making coir rope beside the backwaters near Kochi, Kerala, India. While the spindles are electrically operated, the women walk backwards about 30 metres each time, several hundred times a day, guiding the fibres through their hands from the baskets on their waists.
Fig. 42. Making doormats from coir
Fig. 43. Ropes made of coconut fibres
Fig. 44. Blocks made of coconut fibres and humus made for plant cultivation
Fig. 45. The cross-section of a mattress made of coconut fibres (middle; brown line), a spcial foam (above and below the coconut fibres; withe lines) and a mixture of hemp- and sheepwool (above and below the foam; grey-brown ring).



Copra Uses


The most important economic product of the coconut is obtained by drying the meat into copra, which is pressed to produce coconut oil, primarily used in making soap and cosmetics.2
The dried coconut meat (endosperm) from which oil is expelled. In ripe nuts, the endosperm contains about 50% water and 35–40% oil.
In preparing copra, the dried meat of the coconut, the nuts are cut in half, the milk drained off, and the nuts are exposed to sun. The partially dried meat contracts and can be readily removed from the shell. Further drying reduces the moisture to under 8 percent, necessary to prevent mold growth. Artificial heat is often used for this.


| | | |
| --- | --- | --- |
| | | |
| Fig. 46 | Fig. 47 | Fig. 48 |
| | | |
| --- | --- | --- |
| | | |
| Fig. 49 | Fig. 50 | Fig. 51 |

Fig. 46. Coconuts drying before being processed into copra, Polomuhu village, Central Province, Solomon Islands
Fig. 47. Râpe à noix de coco (grating tool) (Sri Lanka)
Fig. 48. Woman grinding coconuts in Ban Dongphayom, Phitsanulok, Thailand
Fig. 49. Traditional bullock-powered coconut oil mill. Dried coconuts are crushed and oil is squeezed out.
Fig. 50. Coconut fat - saturated coconut oil - 100% fat
Fig. 51. Coconut and oil



Other Uses



| | | |
| --- | --- | --- |
| | | |
| Fig. 52 | Fig. 53 | Fig.54 |
| | | | |
| --- | --- | --- | --- |
| | | | |
| Fig. 55 | Fig. 56 | Fig. 57 | Fig. 58 |

Fig. 52. Sew-through coconut shell buttons
Fig. 53. Coconut shell dipper and tea set - Old State House Museum, Boston, MA. USA.
Fig. 54. Collections of the Treasury of Sint-Servaasbasiliek. Reliquiari con noce di cocco intagliata di fattura forse giapponese, montatura in argento del 1693.
Fig. 55. Kembar mayang is a janur (young coconut leaves) arrangement that usually put in pair at javanese wedding ceremonies. It symbolises prosperity and togetherness..
Fig. 56. Bird made using coconut leaves
Fig. 57. A Chinese yehu (2-stringed fiddle with coconut shell body). Photo taken in Kent, Ohio, United States. The yehu was probably made in Guangdong, China.
Fig. 58. Detail of the carved back of the body of a Chinese yehu (2-stringed fiddle with coconut shell body). The white dots appear to be bone inlay. Kent, Ohio, United States. The yehu was probably made in Guangdong, China.

General

| | | |
| --- | --- | --- |
| | | |
| Fig. 64 | Fig. 65 | Fig. 66 |

Fig. 64. Green coconut fruits on the coconut tree are featured on each Maldivian rufiyaa banknote. Republic of Maldives.
Fig. 65. 'BEWARE FALLING COCONUTS' sign in Honolulu, Hawaii
Fig. 66. A "Cocotaxi" in Havana (La Habana), Cuba.


Fig. 67

Fig. . The range of the natural habitat of the coconut palm tree delineated by the red line (based on information in Werth 1933)



Further Reading


Cocos nucifera: Species Profiles for Pacific Islands Agroforestry pdf 27 pages
The Coconut Palm from

Agroforestry.net


The Coconut Odyssey from the Australian Centre for International Agricultural Research

pdf 134 pages (large file)


More Images and Information
Coconut Botanical Art


List of Growers & Vendors




1 Magness, J.R., G.M. Markle, C.C. Compton. "Food and feed crops of the United States." hort.purdue.edu. Interregional Research Project IR-4, IR Bul. 1 (Bul. 828 New Jersey Agr. Expt. Sta.). 1971. Web. 27 Apr. 2014.

2 Broschat, T.K. and Crane, Jonathan H. "The Coconut Palm In Florida." edis.ifas.ufl.edu. This document is HS40, one of a series of the Horticultural Sciences Department, Florida Cooperative Extension Service, Institute of Food and Agricultural Sciences, University of Florida. Publication date April 1984. Revised June 2014. Web. 4 Nov. 2015.

3 Dalgado, Sebastião. "Glossário luso-asiático." wikipedia.org. google.com 1. p. 291. Web. 4 Nov. 2015.

4 J. Pearsall, ed. (1999). "Coconut." wikipedia.org. Concise Oxford Dictionary (10th ed.). Oxford: Clarendon Press. ISBN 0-19-860287-1. Web. 4 Nov. 2015.

5 "Cocos nucifera (Arecaceae)." ntbg.org. National Tropical Botanical Garden. Web. 2 Dec. 2015.

6 "Cocos nucifera (coconut)." cabi.org. Invasive Species Compendium. Web. 2 Dec. 2015.

7 Martin, Franklin W. "The Coconut Palm." N.d. agroforestry.org. Multipurpose Palms You Can Grow, Chapter 3, publication produced by Agroforestry Net. Web. 21 Nov. 2015.


Photographs

Fig. 1 A Maypan coconut palm, growing in Ft. Lauderdale, Fla., in 2008. edis.ifas.ufl.edu. Web. 28 Apr. 2014.

Fig. 2,3,6,19 Anderson, Patti, J. Cocos nucifera. 2011. Identifying Commonly Cultivated Palms, a Resource for Pests and Diseases of Cultivated Palms. idtools.org/id/palm/palmid. Web. 16 Jan. 2014.

Fig. 4 Khaytarova, Marina. Cocos nucifera. N.d. Plant catalog. toptropicals.com. Web. 16 Jan. 2014.

Fig. 5 Valke, Dinesh. Cocos nucifera flowers being pollinated by a bee. Thane, India. 2008. commons.wikimedia.org. Under (CC BY-SA 2.0). Web. 2 May 2017.

Fig. 7,9 Carr, Gerald D. Cocos nucifera. N.d. University of Hawaii, Botany Department, Manoa Campus Plants. botany.hawaii.edu. Web. 12 Oct. 2013.
Fig. 8,17,28 Coconut. N.d. pixabay.com. Web. 29 Apr. 2017.
Fig. 10 Sigalov, Mark. Cocos nucifera. N.d. Plant catalog. toptropicals.com. Web. 16 Jan. 2014.
Fig. 11 Jackson, Karen. Fresh Coconuts. 2015. growables.org. JPG file.
Fig. 12 EJavanainen. Ivory Coastian coconut. 2010. wikimedia.org. Web. 4 Nov. 2015.
Fig. 13 Sivaraj, Aravind. A cut coconut shell in India. 2013. wikimedia.org. Under (CC BY-SA 3.0 US). Web. 30 Apr. 2017.
Fig. 14 Teknad. Organic-grown coconut produced in Côte d'Ivoire, in a grocery shop of the 11th arrondissement of Paris, France. 2017. wikimedia.org. Under (CC0 1.0). Web. 30 Apr. 2017.
Fig. 15 Kerina yin. Matured coconut, sectioned to display layers. Layers are labeled. 2006. commons.wikimedia.org. Under (CC BY-SA 3.0). Web. 1 May 2017.
Fig. 16 Zell, H. Coconut Palm, longitudinal section fruit; Botanical Garden KIT, Karlsruhe, Germany. 2010. commons.wikimedia.org. Under (CC BY-SA 3.0). Web. 1 May 2017.
Fig. 18 Cocos nucifera. N.d. Plant catalog. toptropicals.com. Web. 16 Jan. 2014.
Fig. 20 Baluperoth. Coconut Cocos nucifera. Fallen immature nuts, Thrissur, Kerala, India. 2015. wikimedia.org. Under (CC BY-SA 4.0). Web. 30 Apr. 2017.
Fig. 21 Praveenp. A coconut harvester (Raghavan), near Chirakkadavu, Kanjirappally. Coconut climbing tool also visible.. 2009. Transferred from ml.wikipedia to Commons. by Sreejith K (talk). wikimedia.org. Public domain. Web. 4 Nov. 2015.
Fig. 22 Obsidian Soul. Notches cut into the coconut trunk to facilitate easier climbing and harvesting, Philippines. 2011. wikimedia.org. Web. 4 Nov. 2015.
Fig. 23 Tutrin. Sharp edged hook used for coconut plucking in the Maldives. 2014. commons.wikimedia.org. Under (CC BY-SA 4.0). Web. 1 May 2017.
Fig. 24 Chief Tuimauga, a member of the Hale Koa Hotel luau, demonstrates the skill of climbing a tree to retrieve coconuts. The Hale Koa, an Armed Forces Recreation Center resort, hosts a luau on Mondays and Thursdays at 5 p.m. 2009. U.S. military or Department of Defense. commons.wikimedia.org. Public domain. Web. 2 May 2017.
Fig. 25 Ji-Elle. Sri Lanka (Province du Sud): outil pour ouvrir les noix de coco. 2013. commons.wikimedia.org. Under (CC BY-SA 3.0). Web. 2 May 2017.
Fig. 26 Ji-Elle. Ouverture des noix de coco au Sri Lanka (entre Yapahuwa et Dambulla, au centre du pays. 2013. commons.wikimedia.org. Under (CC BY-SA 3.0). Web. 2 May 2017.
Fig. 27 Wmpearl. Coconut palm (Cocos nucifera) germinating on Punaluu Black Sand Beach, island of Hawai'i. 2008. wikimedia.org. Web. 4 Nov. 2015.
Fig. 29 Dtfman. Coconut water drink. 2011. wikimedia.org. Under (CC0). Web. 30 Apr. 2017.
Fig. 30 FVelasquez, Ramon. Purest coconut milk ('kakang gata"), extracted from 15 fresh mature coconuts in Philippines. 2012. wikimedia.org. Under (CC BY-SA 3.0 US). Web. 30 Apr. 2017.
Fig. 31 amrufm. Candied coconut types sold in Ho Chi Minh City. 2011. commons.wikimedia.org. Under (CC BY 2.0). Web. 30 Apr. 2017.
Fig. 32 Phu Thinh Co. Fresh-water-coconut. 2012. commons.wikimedia.org. Under (CC BY 2.0). Web. 1 May 2017.
Fig. 33 Takeaway. Otak-otak from a shop in Katong, Singapore. Puréed fish is mixed with a chilli paste, coconut milk and egg and then grilled, wrapped inside two sections of coconut palm leaf. 2012. commons.wikimedia.org. Under (CC BY-SA 3.0). Web. 1 May 2017.
Fig. 34 Chaerani, Meutia. Ketupat, traditional indonesian rice cake. Typically eaten for festive seasons. 2005. commons.wikimedia.org. Under (CC BY 2.5). Web. 2 May 2017.
Fig. 35 Velasquez Ramon F. Fresh mature grated coconut meat, opened coconut, coconut healing oil, 2 "mata" (eyes) rarest coconut and Fresh mature grated coconut meat, respectively (l-rt). 2010. wikimedia.org. Under (CC BY-SA 3.0 US). Web. 6 Nov. 2015.
Fig. 36 Vogels, Joep. Coir/Coconut fiber - Tray and samples of the textile cabinet in the Textielmuseum in Tilburg. Cabinet interior made by Simone de Waart, Material Sense. 2011. commons.wikimedia.org. Under (CC BY-SA 4.0). Web. 2 May 2017.
Fig. 37 Panigrahi, Subhashish. Fiber cutter used for cutting coconut fiber (coir) in Puri, Odisha by workers of non-profit Odiani working on coconut fiber craft. Odiani is located in Teisipur, Puri district, Odisha, India. 2014. commons.wikimedia.org. Under (CC BY-SA 4.0). Web. 2 May 2017.
Fig. 38 Krankman. Extracting the fiber from the husk (Sri Lanka). 2006. wikimedia.org. Under (CC BY-SA 2.5). Web. 30 Apr. 2017.
Fig. 39 Maari, Thamizhpparithi. This photo depicting the process of rewinding of coconut coir pith rope. Tamils widely using this rope for many purposes. 2011. commons.wikimedia.org. Under (CC BY-SA 3.0). Web. 2 May 2017.
Fig. 40 Krankman. Making a rug from coconut fiber. Srilanka. 2006. wikimedia.org. Under (CC BY-SA 2.5). Web. 30 Apr. 2017.
Fig. 41 Bricaniwi. Public display by members of a cooperative making coir rope beside the backwaters near Kochi, Kerala, India. While the spindles are electrically operated, the women walk backwards about 30 metres each time, several hundred times a day, guiding the fibres through their hands from the baskets on their waists. 2010. commons.wikimedia.org. Under (GFDL). Web. 2 May 2017.
Fig. 42 Hagens, Wouter. Making doormats from coir. India. 2004. commons.wikimedia.org. Under (CC BY-SA 3.0). Web. 2 May 2017.
Fig. 43 StromBer. Ropes made of coconut fibres. 2008. commons.wikimedia.org. Public domain. Web. 2 May 2017.
Fig. 44 D-Kuru. Blocks made of coconut fibres and humus made for plant cultivation. 2008. commons.wikimedia.org. Under (CC BY-SA 3.0) at Austria. Web. 3 May 2017.
Fig. 45 D-Kuru. The cross-section of a mattress made of coconut fibres(middle; brown line), a spcial foam (above and below the coconut fibres; withe lines) and a mixture of hemp- and sheepwool (above and below the foam; grey-brown ring). 2008. commons.wikimedia.org. Under (CC BY-SA 3.0) at Austria. Web. 3 May 2017.
Fig. 46 Ji-Elle. Râpe à noix de coco (Sri Lanka). 2013. commons.wikimedia.org. Under (CC BY-SA 3.0). Web. 2 May 2017.
Fig. 47 Davis, Peter. Coconuts drying before being processed into copra, Polomuhu village, Central Province, Solomon Islands. 2004. wikimedia.org. Under (CC BY 2.0). Web. 30 Apr. 2017.
Fig. 48 Kborland. Woman grinding coconuts in Ban Dongphayom, Phitsanulok, Thailand. 2001. commons.wikimedia.org. Under (CC BY-SA 3.0). Web. 3 May 2017.
Fig. 49 Sassi, Dino. Traditional bullock-powered coconut oil mill. Dried coconuts are crushed and oil is squeezed out. c.1970. Scanned from the photo album: Maxime Fayon, Seychelles, Photo Eden, Victoria (Seychelles) 1977. commons.wikimedia.org. Public domain according to the law of the Seychelles. Web. 30 Apr. 2017.

Fig. 50 User: Friman.

Coconut-fat - saturated coconut oil - 100% fat

. 2007.

commons.wikimedia.org

. Public domain. Web. 1 May 2017.

Fig. 51 Dầu dừa. Coconut and oil. 2010. commons.wikimedia.org. Under (CC BY-SA 2.0). Web. 3 May 2017.
Fig. 52 Tyranny Sue. Sew-through coconut shell buttons. 2010. commons.wikimedia.org. Under (CC BY-SA 3.0). Web. 3 May 2017.
Fig. 53 Coconut shell dipper and tea set - Old State House Museum, Boston, MA. USA. commons.wikimedia.org. Public domain. Web. 3 May 2017.
Fig. 54 Sailko. Collections of the Treasury of Sint-Servaasbasiliek. Reliquiari con noce di cocco intagliata di fattura forse giapponese, montatura in argento del 1693. 2016. commons.wikimedia.org. Under (CC BY 3.0). Web. 3 May 2017.
Fig. 55 Kembangraps. Kembar mayang is a janur (young coconut leaves) arrangement that usually put in pair at javanese wedding ceremonies. It symbolises prosperity and togetherness. 2016. commons.wikimedia.org. Under (CC0). Web. 3 May 2017.
Fig. 56 Deepugn. Bird made using coconut leaves. 2017. commons.wikimedia.org. Under (CC BY-SA 4.0). Web. 3 May 2017
Fig. 57 Badagnani. A Chinese yehu (2-stringed fiddle with coconut shell body). Photo taken in Kent, Ohio, United States. The yehu was probably made in Guangdong, China. 2008. commons.wikimedia.org. Under (CC BY-SA 3.0). Web. 3 May 2017.
Fig. 58 Badagnani. Detail of the carved back of the body of a Chinese yehu (2-stringed fiddle with coconut shell body). The white dots appear to be bone inlay. Photo taken in Kent, Ohio, United States. The yehu was probably made in Guangdong, China. 2008. commons.wikimedia.org. Under (CC BY-SA 3.0). Web. 3 May 2017.
Fig. 59 Singhalawap. King Coconut in Sri Lanka. 2010. wikimedia.org. Under (CC BY-SA 3.0). Web. 30 Apr. 2017.
Fig. 60 Binu, Augustus. Coconuts being sold on a street in India. Madiwala Coconut market. 2012. wikimedia.org. Under ( CC BY-SA 3.0). Web. 30 Apr. 2017.
Fig. 61 Prayitno. A young lady sells fresh young iced coconuts in Old Town, Jakarta, Indonesia. 2013. commons.wikimedia.org. Under (CC BY 2.0). Web. 1 May 2017.
Fig. 62 Shaffner, Paul. Coconut Palace, Manila, Philippines, built entirely out of coconut and local materials. 2007. wikimedia.org. Under (CC BY 2.0). Web. 30 Apr. 2017.
Fig. 63 Coconut Shell Paperweight - Original coconut on which the rescue message was inscribed by Kennedy to rescue the crew of the PT-109 and delivered by natives, Biuku Gasa and Eroni Kumana, of the Solomon Islands. From the source: While Kennedy was serving in WWII as commander of the PT109, his boat was hit by a Japanese destroyer and his crew was stranded in the Solomon Islands. Lieutenant John F. Kennedy carved this Coconut shell with a message and gave it to two natives to deliver to the PT base at Rendova so he and his crew would be rescued. He later had the coconut shell encased in wood and plastic and used it as a paperweight on his desk in the Oval Office. Message carved on coconut shell reads "NAURO ISL…COMMANDER…NATIVE KNOWS POS'IT…HE CAN PILOT…11 ALIVE…NEED SMALL BOAT…KENNEDY". 2008. jfklibrary.org. commons.wikimedia.org. Public domain. Web. 3 May 2017.
Fig. 64 User; Jolie. Green coconut fruits on the coconut tree are featured on each Maldivian rufiyaa banknote. Republic of Maldives. 2009. wikimedia.org. Under (CC BY-SA 4.0). Web. 30 Apr. 2017.
Fig. 65 Wmpearl. 'BEWARE FALLING COCONUTS' sign in Honolulu, Hawaii. 2011. commons.wikimedia.org. Under (CC0). Web. 3 May 2017.
Fig. 66 A "Cocotaxi" in Havana (La Habana), Cuba. 2011. wikimedia.org. Under ( CC BY-SA 3.0). Web. 30 Apr. 2017.
Fig. 67 Jonsson, Niklas. The range of the natural habitat of the coconut palm tree delineated by the red line (based on information in Werth 1933). 2009. wikimedia.org. Under (CC BY-SA 3.0 US). Web. 30 Apr. 2017.


* UF/IFAS Assessment of Non-native Plants in Florida's Natural Areas


Published 2 May 2015 LR. Last update 3 May 2017 LR