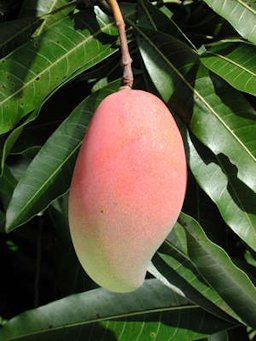 Fig. 1
Mango 'Saber'

Fig. 2

Mangos of the Kensington Pride cultivar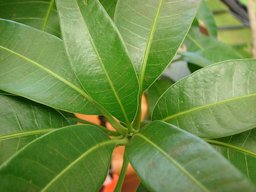 Fig. 3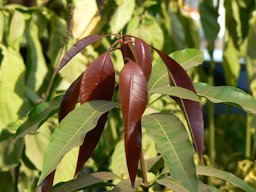 Fig. 4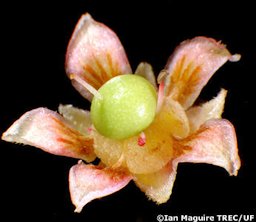 Fig. 11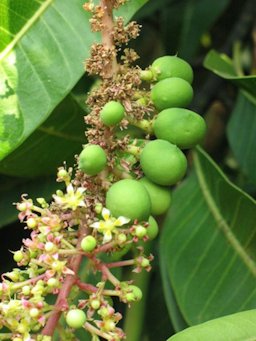 Fig. 12

Close-up of a twig of Alphonso mango tree carrying flowers and immature fruit.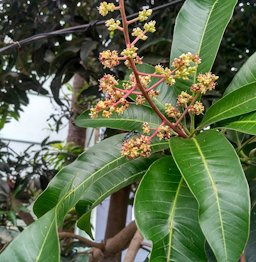 Fig. 13

Mangga indramayu, a cultivar of mango,

Mangifera indica

, planted in Banyumas, Central Java, Indonesia. Unriped fruits and inflorescence.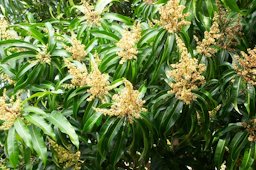 Fig. 14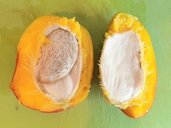 Fig. 15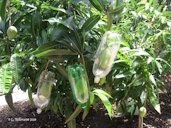 Fig. 16

Protection of fruit with 2 liter 'Pop' bottles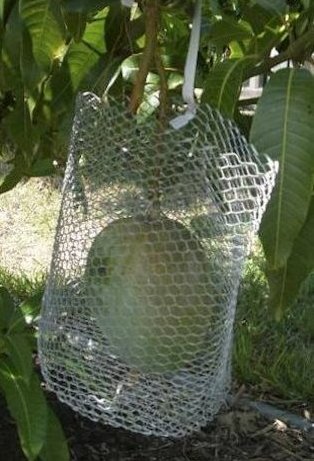 Fig. 17
How to Make Wire Cages to Protect Your Fruits and Nuts From Squirrels and Other Varmints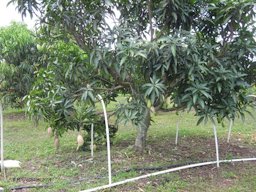 Fig. 18

Cold protection system at Fairchild Tropical Botanic Garden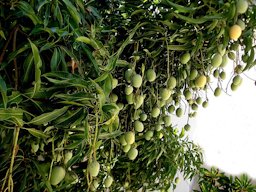 Fig. 19

Mango, in moist Brazilian tropics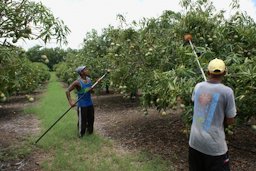 Fig. 20

Mango orchard on Réunion island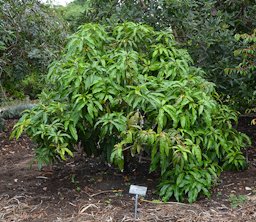 Fig. 22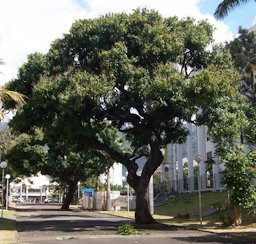 Fig. 23

Large street tree in India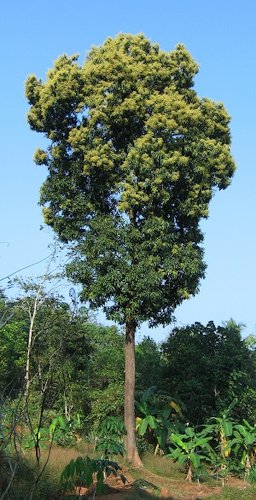 Fig. 24

This is a kind of Mango tree seen in Kerala, called naaTTumaav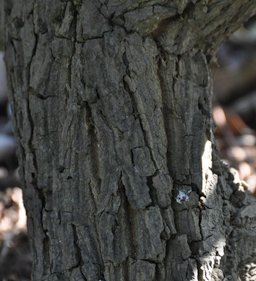 Fig. 31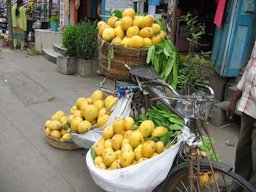 Fig. 32

Partially ripened Banganpalli mangoes being sold on a bicycle at Guntur City, India. These are available from the middle of May to June of the summer season.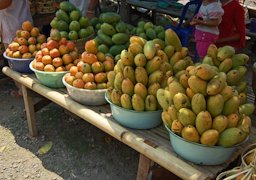 Fig. 33

Many cultivars of mango,

Mangifera indica

from West Java, Indonesia. E.g. mangga golek, mangga gedong and mangga arumanis.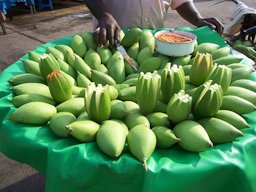 Fig. 34

Mangoes, as displayed by the seller in front of the Samayapuram Mariyamman Temple at Samayapuram, Tiruchirappalli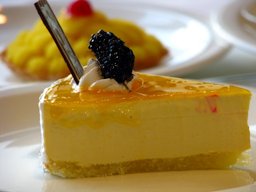 Fig. 35

Look at the raspberry at the top, gives a nice flavour to the mango cheese cake. Cheers and Happy Eating!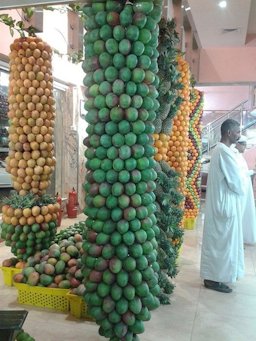 Fig. 45
Scientific name




Mangifera indica




Pronunciation


man-JIFF-er-uh IN-dih-kuh


Common names


Mango (English); Mango, Manga amarilla, Manga blanca, Mango de hilacha (Spanish); Mango, Mangom, Mangueira (Portuguese); Mangga (Southeast Asia); mamuang (Thai); Mangot, Manguier (French) 5


Synonyms




Mangifera amba

Forsk.;

M. domestica

Gaertn.;

M. gladiata

Boj.;

M. racemosa

Boj.;

M. rubra

Boj. 4


Relatives


Bindjai (

M. caesia

), Horse Mango (

M. foetida

), Kuweni mango (

M. odorata

) 2


Distant affinity


Cashew (

Anacardium occidentale

), Gandaria (

Bouea gandaria

), Pistachio (

Pistacia vera

), Marula (

Sclerocarya birrea

), Ambarella (

Spondias cytherea

), Yellow Mombin (S. mombin), Red Mombin (S. purpurea), Imbu (S. tuberosa) 2
Family
Anacardiaceae


Origin


Mangos originated in the Indo-Burma region and are indigenous to India and Southeast Asia. 1


USDA hardiness zones


11-12


Uses


Fruit; shade; landscape specimen; hedge; screen


Height


30-100 ft (10-30 m)


Spread


May with age, attain 100-125 ft (30-38 m) in width 3


Crown


Broad, rounded, symmetrical, dense canopy or a more upright, oval, relatively slender crown (Fig. ) 3


Growth rate


Fast; 24 in. or more per season


Longevity


Long-lived, some specimens being known to be 300 years old and still fruiting 3


Trunk/bark/branches


Multibranched; branches droop and are susceptible to breakage; not showy; typically one trunk


Pruning requirement


Needed for strong structure


Leaves


Evergreen; alternately arranged; lanceolate; 6-16 in. (15-40.6 cm); leathery


Flower


Showy; pinkish/white; flowers in spring or winter; has either male or female flowers (dioecious); many-branched panicle borne at the ends of shoots; bloom from December to April depending upon climatic conditions and variety


Fruit


Classified as drupes; nearly round, oval, ovoid-oblong; size/color depends upon variety; may be greenish, greenish-yellow, yellow, red, orange, or purple; weigh from a few ounces to more than 5 pounds (2.3 kg); skin is smooth,leathery; flesh pale-yellow to deep-orange; single large, flattened, kidney-shaped seed enclosed in a woody husk 1


Season


May to September
USDA Nutrient Content pdf


Light requirement


Full sun


Soil tolerances


Clay; sand; loam; alkaline; acidic; well-drained


PH preference


5.5-7.5


Drought tolerance


Moderate


Aerosol salt tolerance


Moderate


Cold tolerance


Flowers/small fruit can be killed below 40°F (4.4°C); mature trees may withstand short periods as low as 25°F (-3.9°C) 1


Plant spacing


25-30 ft (7.6-9 m) apart, if left unpruned they become very large


Roots


Long tap root and dense surface mass of feeding roots 5
Invasive potential *


Mangifera indica

should be treated with caution in the central and south zone in Florida, may be recommended but managed to prevent escape. It is not considered a problem species and may be recommended in the north zone in Florida


Pest/Disease resistance


Sensitive to pests/diseases; scales followed by sooty mold and Mediterranean fruit fly are pests of this tree; anthracnose on fruit and leaves is a serious problem


Known hazard


Some people are allergic to the pollen, the sap and even the fruit


---

Reading Material
Mango Growing in the Florida Home Landscape from the University of Florida

pdf


Growing Mango from N. Ledesma, Curator of Fairchild Tropical Botanic Garden


Mangifera indica

: Mango from the University of Florida

pdf


Mango from Julia Morton's Book Fruits of Warm Climates
Mango from the California Rare Fruit Growers Inc.


Mangifera indica

(mango) from the Species Profiles for Pacific Island Agroforestry

pdf 25 pages


Mango a New Reality (talk by Dr. R. Campbell) from the Archives of the Rare Fruit Council


---

Origin
The mango is native to southern Asia, especially Burma and eastern India. It spread early on to Malaya, eastern Asia and eastern Africa. Mangos were introduced to California (Santa Barbara) in 1880. 1



Tree


A medium to large 30-100 ft 99.1-30.5 m) evergreen tree, with a symmetrical, rounded canopy ranging from low and dense to upright and open. 1


Fig. 25
'Ice Cream'
Fig. 26
'Pickering'
Fig. 27
'Vallenato'
Fig. 28
'Mallika'
Fig. 29
'Nan Doc Mai'
Fig. 30
'Julie'



Roots


The mango has a long taproot that often branches just below ground level, forming between two and four major anchoring taproots tan can reach 6 m (20 ft) down to the water table. The more fibrous finer roots (feeder roots) are found from the surface down to approximately 1 m (3.3 ft) and usually extend just beyound the canoty diameter. Distribution of the finer roots changes seasonall with the moinsture distribution in the soil. 6



Leaves


Nearly evergreen, alternate leaves are borne mainly in rosettes at the tips of the branches and numerous twigs from which they droop like ribbons on slender petioles 1 to 4 in (2.5-10 cm) long. The new leaves, appearing periodically and irregularly on a few branches at a time, are yellowish, pink, deep-rose or wine-red, becoming dark-green and glossy above, lighter beneath. The midrib is pale and conspicuous and the many horizontal veins distinct. Full-grown leaves may be 4 to 12.5 in (10-32 cm) long and 3/4 to 2 1/8 in (2-5.4 cm) wide. 3



Flowers


Hundreds and even as many as 3,000 to 4,000 small, yellowish or reddish flowers, 25 to 98 % male, the rest hermaphroditic, are borne in profuse, showy, erect, pyramidal, branched clusters 2 1/2 to 15 1/2 in (6-40 cm) high. 3

Inflorescense Sequence
by Ian Maguire UF/IFAS/TREC




Fruit


There is great variation in the form, size, color and quality of the fruits. They may be nearly round, oval, ovoid-oblong, or somewhat kidney-shaped, often with a break at the apex, and are usually more or less lop-sided. They range from 2 1/2 to 10 in (6.25-25 cm) in length and from a few ounces to 4 to 5 lbs (1.8-2.26 kg). The skin is leathery, waxy, smooth, fairly thick, aromatic and ranges from light-or dark-green to clear yellow, yellow-orange, yellow and reddish-pink, or more or less blushed with bright-or dark-red or purple-red, with fine yellow, greenish or reddish dots, and thin or thick whitish, gray or purplish bloom, when fully ripe. Some have a "turpentine" odor and flavor, while others are richly and pleasantly fragrant. The flesh ranges from pale-yellow to deep-orange. It is essentially peach-like but much more fibrous, extremely juicy, with a flavor range from very sweet to subacid to tart. 3

Bagging: Protecting Your Fruit from the Archives of the Rare Fruit Council



Varieties


It is generally accepted that there are two main types of mango, the Indian and the Indochinese.1
Indian Types typically have monoembryonic seeds and often highly colored fruit. The fruit tend to be more susceptible to anthracnose and internal breakdown. Most commercial Florida varieties are of this type.1
Indochinese Types typically have polyembryonic seeds and fruit often lack attractive coloration (i.e., they are green, light green, or yellow). The fruit tend to be relatively resistant to anthracnose. Florida varieties of this group are not commercially important, although some are appreciated in home plantings. 1

Mango Varieties
Mango Varieties Recommended for Florida from the University of Florida
Pine Island Nursery's Condo Mangos viewer

ext. link


Fairchild Tropical Botanic Garden N. Ledesma Curator's Choices for 2014
Green Thai Mangos from the Archives of the Rare Fruit Council
Many Choices Now for Your Back Yard Mango Tree by N. Ledesma curator of Fairchild Tropical Botanic Garden



Harvesting


The number of fruits that set and mature is very small in relation to the number of flowers produced by the tree. Most varieties in Florida produce an average of less than one fruit per panicle. In Florida, average yields of 4 to 6 bushels (220 to 330 lbs; 100 to 150 kg) can be expected from mature trees. 1
The crop is considered mature when the shoulders and the nose (the end of the fruit away from the stem) of the fruit broaden (fill out). Varieties that have color when ripe may have a slight blush of color development, or they may have begun to change color from green to yellow. Prior to this peel color break, the fruit is considered mature when the flesh near the seed changes color from white to yellow. 1

Harvest Calendar



Pollination


Pollination is by various insects such as thrips, flies, and to a small extent, honey bees. 1



Propagation


Polyembryonic mango varieties generally come true from seed, and this is a common method of propagation in many parts of the tropics. Monoembryonic varieties do not come true from seed and must be propagated vegetatively in order to obtain the same variety. 1
There is a single, longitudinally ribbed, pale yellowish-white, somewhat woody stone, flattened, oval or kidney-shaped, sometimes rather elongated. Within the stone is the starchy seed, monoembryonic - usually single-sprouting or polyembryonic - usually producing more than one seedling. 3

Mangoes - Polyembryonic from the Sub-Tropical Fruit Club of Qld Inc.
Veneer-grafting and chip-budding are the most common and successful methods in Florida. Grafted trees will begin to bear 3 to 5 years after planting. 1
Mango Propagation by the Curators of Fairchild Tropical Botanic Garden
Grafting Techniques
Graft-induced Off-season Flowering and Fruiting in the Mango from Archives of the Rare Fruit Council of Australia
Top Working of Mango Trees from the Archives of the Rare Fruit Council
Grafting Mangos from the Archives of the Rare Fruit Council



Pruning


Formative pruning of young trees may be advantageous because it by increases the number of lateral branches and establishes a strong framework for subsequent fruit production. After several years of production, it is desirable to cut back the tops of trees allowed to grow to 12 to 15 feet (3.7-4.6 m).1
Leaf, flower, twig and fruit litter is a constant nuisance.
Pruning Mango Trees: Two Main Precautions Before you Begin from the University of Florida. Lee County Extension

pdf 6 pages



Response to Severe Pruning from the University of Florida Lee County Extension

pdf 12 pages


Mangoes - Size Does Matter from the Sub-tropical Fruit Club of Qld Inc.



Fertilizing


In Florida, young trees should receive fertilizer applications every month during the first
year, beginning with ¼ lb (114 g) and gradually increasing to one pound (455 g). Thereafter, 3 to 4 applications per year in amounts proportionate to the increasing size of the tree are sufficient. 1

Mango: Calcium – a key for good Mango yield and quality from the Sub-tropical Fruit Club of Qld Inc.



Nutrient Deficiencies


Leaf tip burn may be a sign of excess chlorides. Manganese deficiency is indicated by paleness and limpness of foliage followed by yellowing, with distinct green veins and midrib, fine brown spots and browning of leaf tips. Inadequate zinc is evident in less noticeable paleness of foliage, distortion of new shoots, small leaves, necrosis, and stunting of the tree and its roots. In boron deficiency, there is reduced size and distortion of new leaves and browning of the midrib. Copper deficiency is seen in paleness of foliage and severe tip-bum with gray-brown patches on old leaves; abnormally large leaves; also die-back of terminal shoots; sometimes gummosis of twigs and branches. Magnesium is needed when young trees are stunted and pale, new leaves have yellow-white areas between the main veins and prominent yellow specks on both sides of the midrib. There may also be browning of the leaf tips and margins. Lack of iron produces chlorosis in young trees. 3



Irrigation


Newly planted mango trees should be watered at planting and every other day for the first week or so, and then 1 to 2 times a week for the first couple of months. During prolonged dry periods (e.g., 5 or more days of little to no rainfall) newly planted and young mango trees (first 3 years) should be watered once a week. Once the rainy season arrives, irrigation frequency may be reduced or stopped. 1
Once mango trees are 4 or more years old, irrigation will be beneficial to plant growth and crop yields only during very prolonged dry periods during spring and summer. 1

Pest Page
Many insect pests attack mangos, but they seldom limit fruit production significantly. Insect infestations are not predictable and control measures are justified only when large infestations occur. 1

Disease Page
The two major disease problems for mango trees in the home landscape are powdery mildew and anthracnose. Both these fungal pathogens attack newly emerging panicles, flowers, and young fruit. One to two early spring applications of sulfur and copper timed to begin when the panicle is 1/2 full size and then 10 to 21 days later will greatly improve the chances for fruit set and production. 1



Food Uses


Some seedling mangos are so fibrous that they cannot be sliced; instead, they are massaged, the stem-end is cut off, and the juice squeezed from the fruit into the mouth. 3
Mangos are predominantly grown for their fruit, which is mostly eaten ripe as a dessert fruit. Mature green mangos are also eaten fresh or as pickles. Fresh mangos are processed and preserved into a wide range of products including pulps, juices, frozen slices, dried slices, pulp (fruit leather), chutneys, jams, pickles, canned in syrup, and sliced in brine. 6
Mango purees and essences are used to flavor many food products such as drinks, ice creams, wines, teas, breakfast cereals, muesli bars, and biscuits. 6

Recipes from N. Lesdesma, Curator of Fairchild Tropical Botanic Garden
Preserving Mangos: Freezing and Drying by Noris Ledesma, Curator of Fairchild Tropical Botanic Garden
How to Eat Mangos
Mango Fork from the Archives of the Rare Fruit Council
South Florida Tropicals: Mango from the University of Florida pdf


| | | | |
| --- | --- | --- | --- |
| | | | |
| Fig. 39 | Fig. 40 | Fig. 41 | Fig. 42 |

Fig. 36. One of the pastry creations. Something with mango, if I recall correctly. At the Lanesborough, Hyde Park Corner
Fig. 37. Mango Milk-shake and some chocolates to cool off on a summer evening
Fig. 38. Mango Pudding
Fig. 39. Unripe mango (bn: Aam) chutney, it is a very popular dish in West Bengal
Fig. 40. The "hedgehog" style is a form of mango preparation
Fig. 42. Mango fork. Most people enjoy eating the residual flesh from the seed and this is done most neatly by piercing the stem-end of the seed with the long central tine of a mango fork, commonly sold in Mexico, and holding the seed upright like a lollypop. 3
Fig. 43. "Amba vadi", a term in marathi denotes this foodstuff made up of mango juice. Amba vadi is prepared by drying mango juice in sun. Mangoes are seasonal fruits and in order to enjoy them yearlong, amba vadis are made. Mango juice is poured into a plate and left to dry in scorching heat of India, result: a roti of mango juice that can be preserved anf tastes like mango juice.
Fig. 44. India. Sights & Culture. Mango sun-drying for pickle making.

Medicinal Uses **
Dried mango flowers, containing 15% tannin, serve as astringents in cases of diarrhea, chronic dysentery, catarrh of the bladder and chronic urethritis resulting from gonorrhea. The bark contains mangiferine and is astringent and employed against rheumatism and diphtheria in India. The resinous gum from the trunk is applied on cracks in the skin of the feet and on scabies, and is believed helpful in cases of syphilis. 3
Mango kernel decoction and powder (not tannin-free) are used as vermifuges and as astringents in diarrhea, hemorrhages and bleeding hemorrhoids. The fat is administered in cases of stomatitis. Extracts of unripe fruits and of bark, stems and leaves have shown antibiotic activity. In some of the islands of the Caribbean, the leaf decoction is taken as a remedy for diarrhea, fever, chest complaints, diabetes, hypertension and other ills. A combined decoction of mango and other leaves is taken after childbirth. 3



Indigenous Uses


The bark possesses 16% to 20% tannin and has been employed for tanning hides. It yields a yellow dye, or, with turmeric and lime, a bright rose-pink. 3
A somewhat resinous, red-brown gum from the trunk is used for mending crockery in tropical Africa. In India, it is sold as a substitute for gum arabic. 3
Having high stearic acid content, the fat is desirable for soap-making. The seed residue after fat extraction is usable for cattle feed and soil enrichment. 3



Toxicity


The sap which exudes from the stalk close to the base of the fruit is somewhat milky at first, also yellowish-resinous. It becomes pale-yellow and translucent when dried. It contains mangiferen, resinous acid, mangiferic acid, and the resinol, mangiferol. It, like the sap of the trunk and branches and the skin of the unripe fruit, is a potent skin irritant, and capable of blistering the skin of the normal individual. As with poison ivy, there is typically a delayed reaction. Hypersensitive persons may react with considerable swelling of the eyelids, the face, and other parts of the body. 3
When mango trees are in bloom, it is not uncommon for people to suffer itching around the eyes, facial swelling and respiratory difficulty, even though there is no airborne pollen. The few pollen grains are large and they tend to adhere to each other even in dry weather. The stigma is small and not designed to catch windborne pollen. The irritant is probably the vaporized essential oil of the flowers which contains the sesquiterpene alcohol, mangiferol, and the ketone, mangiferone. 3



General


Fairchild Tropical Botanic Garden's Mango Webpage

ext. link


Dr. Richard J. Campbell, and Noris Ledesma the Curators of Fairchild Tropical Botanical Garden, have carefully selected mango cultivars well-suited to contemporary conditions. The tree and fruit are highly tolerant of disease and fruit well under humid conditions, making it a natural for South Florida.



Condo Mangos

- The term "condo mango" was coined by Dr. Richard Campbell, Ph.D. who is the curator of tropical fruit a Fairchild Tropical Botanical Garden in Coral Gables, Florida. It refers to varieties that are conducive to container growing, thus are small by nature and can be kept even smaller through selective pruning. Condo mangos are suitable for balconies, greenhouses, or for planting in suburban backyards. By cutting the tips of the branches once or twice a year the trees can easily be maintained at six to ten feet according to variety. Training the tree to stay small is very easy, and the fruits of your labor are sure to impress. 7



"For the Love of Mango" Blog

ext. links


Mangos of India (2008)
Mangos of Peru (2009)
Mangos of Ecuador (2009)
Mangos of the Philippines, Thailand and Japan (2009)
Mangos of China (2010)
Mangos of Africa (2010)
Hawaii International Fruit Grower Conference 2010
Field Tour 20th Hawaii International Tropical Fruit Grower 2010
Mangos of Borneo (2012)

Their International Mango Festival takes place each year. Take the time to stop at their Fruit Market.

ext. links





Further Reading


Crop Profile for Mango from the National Institute of Food and Agriculture USDA

pdf 11 pages


Mango Plant Guide from the National Institute of Food and Agriculture USDA

pdf 5 pages


Mango, manako from the Common Forest Trees of Hawaii published by the University of Hawaii CTAHR

pdf


Descriptors for Mango from the International Plant Genetic Resources Institute

pdf 71 pages


Mango,

Mangifera indica

from

fruitipedia.com,

the Fruitworld Online Magazine
Mango Culture - Far North Queensland from the Archives of the Rare Fruit Council
Mango Culture in Malaysia from the Archives of the Rare Fruit Council
Do 'Mango Winds' Cause Fruit Drop? from the Archives of the Rare Fruit Council
Mango (

Mangifera indica

) fruit and by-products from

feedipedia.org

pdf 10 Pages


Mango Postharvest Best management Practices Manual from the University of Florida pdf 74 pages
Video on How to Prepare a Mango

ext. link


Mango Botanical Art


List of Growers and Vendors

Bibliography

1 Crane, Johathan H., Balerdi, Carlos F. and Maquire, Ian. "Mangos Growing in the Florida Home Landscape."

edis.ifas.ufl.edu

. Horticultural Sciences Department, UF/IFAS Extension. Publication date Apr. 1994. Reviewed July 2013. Web. 16 Feb. 2015.
2 "Mango".

crfg.org

. 1996. Web. 17 Feb. 2015.
3 Morton, J. "Mango."

hort.purdue.edu

. Fruits of warm climates, p. 221-239. 1987. Web. 18 Jan. 2015.
4 Fern, Ken.

"Mangifera indica

L." tropical.theferns.info.com. Useful Tropical Plants Database. 2 Mar. 2016. Web. 26 Mar. 2016.
5 "

Mangifera indica

, Mango." cabi.org. Centre for Agriculture and Biosciences International. Web. 26 Mar. 2016.
6 Bally, Ian S. E. "

Mangifera indica

, Mango."

traditionaltree.org

. Apr. 2006. Species Profiles for Pacific Island Agroforestry. Web. 28 Mar. 2016.
7 "Mango Variety Viewer, Condo Mangos."

tropicalfruitnursery.com

. Web. 28 Mar. 2016.

Photographs

Fig. 1 Maguire, Ian.

Mango 'Saber'

. 2000. trec.ifas.ufl.edu. From the Tropical Fruit Photography Picture Archive. Web. 28 Mar. 2016.
Fig. 2 Fir0002/Flagstaffotos.

Mangos of the Kensington Pride cultivar

. N.d.

commons.wikimedia.org

. Under the (CC BY-NC-SA 3.0). Web. 4 Apr. 2016.
Fig. 3,4,22,23,30 Ritter, M, Reimer, J. and Stubler, C. SelecTree. Mangifera indica

Tree Record

. 1995-2016.

selectree.calpoly.edu

. Urban Forest Ecosystems Institute. Web. 26 Mar. 2016.
Fig. 5,6,7,8,9,10,11 Maguire, Ian.

Mango Inflorescence Sequence

. 2000. trec.ifas.ufl.edu. From the Tropical Fruit Photography Picture Archive. Web. 28 Mar. 2016.
Fig. 12 Kulkarni, Ram.

Close-up of a twig of Alphonso mango tree carrying flowers and immature fruit. The photo was taken at Deogad (or Devgad), Maharashtra, India.

2010.

commons.wikimedia.org

. Under GNU Free Documentation License, Version 1.2. Web. 27 Mar. 2016.
Fig. 13 Djatmiko, W.A..

Mangga indramayu, a cultivar of mango

, Mangifera indica,

planted in Banyumas, Central Java, Indonesia. Unriped fruits and inflorescence

. 2007.

commons.wikimedia.org

. Under GNU Free Documentation License, Version 1.2. Web. 27 Mar. 2016.
Fig. 14,16,26,28,29 Robitaille, Liette. "Mango series." 2014.

growables.org

. JPG File.
Fig. 15 Dukachev, Sergey S.

Opened seed of a yellow mango

. 2009.

commons.wikimedia.org

. Under GNU Free Documentation License, Version 1.2. Web. 28 Mar. 2016.
Fig. 17 Lin, Ed.

How to Protect Your Fruits and Nuts from Squirrels and Other Varmints

. N.d. Suncoast Tropical Fruit and Vegetable Club.
Fig. 18,25 Jackson, Karen. "Mango series." 2014.

growables.org

. JPG File.
Fig. 19 Chris.urs-o - Marinho, Maria.

Mango, in moist Brazilian tropics

. 2009.

commons.wikimedia.org

. Under (CC BY-SA 3.0). Web. 27 Mar. 2016.
Fig. 20 navez, B

. Mango orchard on Réunion island

. N.d. tropical.theferns.info.com. Under (CC BY-NC-SA 3.0). Useful Tropical Plants Database. Web. 26 Mar. 2016.
Fig. 23

Large tree in India

. N.d. tropical.theferns.info.com. Useful Tropical Plants Database. Under (3.0-2.5-2.0-1.0 ). Web. 26 Mar. 2016.
Fig. 24 Vinayaraj.

This is a kind of Mango tree seen in Kerala, called naaTTumaav

. 2011.

commons.wikimedia.org

. Under (CC BY-SA 3.0). Web. 27 Mar. 2016.
Fig. 27 Mangifera indica '

Vallenato

'. N.d.

toptropicals.com

. Web. 15 Feb. 2015.
Fig. 30 Sample, Jane.

Mango 'Julie

'. 2012.

flickr.com

. Web. 28 Mar. 2016.
Fig. 32 Gnt at en.wikipedia.

Partially ripened Banganpalli mangoes being sold on a Bicycle at Guntur City, India

. 2008.

commons.wikimedia.org

. Under (CC BY-SA 3.0). Web. 30 Mar. 2016.
Fig. 33 Djatmiko, W.A..

Many cultivars of mango, Mangifera indica from West Java, Indonesia. E.g. mangga golek, mangga gedong and mangga arumanis

. 2007.

commons.wikimedia.org

. Under GNU Free Documentation License, Version 1.2. Web. 27 Mar. 2016.
Fig. 34 TRYPPN.

Mangoes, as displayed by the seller in front of the Samayapuram Mariyamman Temple at Samayapuram, Tiruchirappalli

. 2010.

commons.wikimedia.org

. Web. 27 Mar. 2016.
Fig. 35 Poddar, Kirti.

Look at the raspberry at the top, gives a nice flavour to the mango cheese cake. Cheers and Happy Eating!

2008.

commons.wikimedia.org

. Under (CC BY-SA 2.0). Web. 27 Mar. 2016.
Fig. 36 Munro, Ewan.

One of the pastry creations. Something with mango, if I recall correctly. At the Lanesborough, Hyde Park Corner

. 2011.

commons.wikimedia.org

. Under (CC BY-SA 2.0). Web. 27 Mar. 2016.
Fig. 37 GoDakshin.

Mango Milk-shake and some chocolates to cool off on a summer evening

. 2008.

commons.wikimedia.org

. Under (CC BY-SA 2.0). Web. 27 Mar. 2016.
Fig. 38 Ong, Terence.

Mango Pudding

. 2006.

commons.wikimedia.org

. Under GNU Free Documentation License, Version 1.2. Web. 27 Mar. 2016.
Fig. 39 Ganguly, Biswarup.

Unripe mango (bn: Aam) chutney, it is a very popular dish in West Bengal

. 2011.

commons.wikimedia.org

. Under GNU Free Documentation License, Version 1.2. Web. 27 Mar. 2016.
Fig. 40 Fantastik.

Une mangue découpée en sorte de dés

. 2006.

commons.wikimedia.org

. Web. 18 Feb. 2015.
Fig. 41 Luisfi.

Mango

. 2014.

commons.wikimedia.org

. Under (CC BY-SA 3.0). Web. 8 Apr. 2016.
Fig. 42 Morton, J. "

Mango

".

hort.purdue.edu

. Fruits of warm climates, p. 221-239. 1987. Web. 18 Feb. 2015.
Fig. 43 Sarangbombatkar.

Amba vadi

. 2015.

commons.wikimedia.org

. Under (CC BY-SA 4.0). Web. 8 Apr. 2016.
Fig. 44 Savage, McKay. India.

Sights & Culture. Mango sun-drying for pickle making

.

commons.wikimedia.org

. Under (CC BY-SA 2.0). From London, UK. Web. 8 Apr. 2016.
Fig. 45 കാക്കര.

Fruit display

.

commons.wikimedia.org

. Under (CC BY-SA 3.0). Web. 8 Apr. 2016.

* UF/IFAS Assessment of Non-native Plants in Florida's Natural Areas
** Information provided is not intended to be used as a guide for treatment of medical conditions.

Published 16 June 2014 LR. Last update to 25 Apr. 2017 LR